This Miss America contestant was asked about NFL kneeling protests — and her answer earned her a win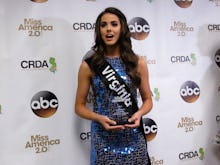 On Thursday night, Miss America contestant Emili McPhail, representing Virginia, was asked what she would say to NFL players about whether to stand or kneel during the national anthem as part of the preliminary round for the 2019 Miss America Competition in Atlantic City, New Jersey.
The question was nothing if not timely — Nike recently unveiled activist and former NFL player Colin Kaepernick, who was effectively blacklisted from the league after he began protesting police brutality by kneeling during the national anthem, as the face of its newest "Just Do It" campaign. That decision, predictably, led the president to tweet, "What was Nike thinking?" on Friday.
But McPhail, 22, had a (literally) winning response to the question. "Kneeling during the national anthem is absolutely a right that you have to stand up for what you believe in, and to make the right decision that's right for you," McPhail said, according to the Press of Atlantic City.
"It's very important that we also have to take into consideration that it is not about kneeling: It is absolutely about police brutality."
McPhail's answer earned her the preliminary onstage question scholarship, a prize of $1,000. After the competition on Thursday, McPhail said she was grateful to have the chance to speak honestly onstage.
"I said standing up for what you believe in is the most important thing that you can do, and that's what I did," she said, according to the Press of Atlantic City. "I was very happy to have that moment to be honest, because it's not always easy."