Former Trump aide George Papadopoulos sentenced to 14 days in prison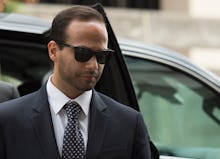 George Papdopoulos, a former foreign policy adviser to President Donald Trump's 2016 campaign, was sentenced Friday to 14 days in prison on charges stemming from Robert Mueller's Russia probe, according to reports.
Papadopoulos, 31, pleaded guilty in October 2017 to a charge of making false statements to investigators about his contacts with Russia. He was the first known Trump campaign official to cooperate with the special counsel into possible conspiracy between the Trump campaign and the Kremlin.
At the time, Trump and the White House sought to distance themselves from the former campaign foreign policy adviser, with White House press secretary Sarah Huckabee Sanders claiming he'd had an "extremely limited" role on the campaign. The president dismissed Papadopoulos as a "young, low level volunteer named George."
However, reporting has suggested that he had been more involved with the campaign than the Trump team has let on. It was revealed in December that it was drunken comments by Papadopoulos to an Australian diplomat that triggered the Russia probe in the first place.
Mueller, who is investigating possible collusion between the Trump campaign and the Kremlin, along with potential obstruction of justice on the part of the president, recommended in August that Papadopoulos be sentenced to six months in prison.
The former Trump aide's legal team has requested leniency, asking that Papadopoulos receive probation but no prison time. In a court filing Aug. 31, Papadopoulos's lawyers painted him as a political newcomer "eager to show his value to the campaign," and quickly got in over his head.
The court filing also suggested that both Trump and Attorney General Jeff Sessions approved of his outreach to Moscow, contradicting Sessions' sworn testimony.
Papadopoulos apparently raised the possibility of setting up a meeting between Trump and Putin during a national security meeting in March 2016. It had previously been reported that Trump "listened with interest," while Sessions opposed the idea.
According to Papadopoulos's account, "Mr. Trump nodded with approval" when he brought up a possible meeting and "deferred to Mr. Sessions who appeared to like the idea and stated that the campaign should look into it."
Trump has repeatedly denied any wrongdoing, calling the Mueller probe a "witch hunt."