Jeremy Scott brings politics to the runway, donning "vote no on Kavanaugh" tank top at NYFW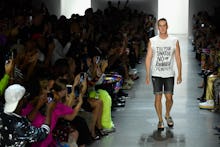 Designer Jeremy Scott rocked a "Tell Your Senator No on Kavanaugh" T-shirt, complete with a phone number to call your senator, on opening night of New York Fashion Week.
Scott made the statement at his spring/summer 2019 runway show on Thursday night, with the theme being: "himself."
It's not that it's never been done before (Prabal Gurung famously did it with his "This Is What a Feminist Looks Like" T-shirt at his fall/winter 2017 show, as did Jonathan Simkhai wearing a "Feminist AF" T-shirt the same year), but perhaps never with such timeliness. The Senate Judiciary Committee hearings of Brett Kavanaugh began Tuesday and perhaps seemed to be an unlikely conversation to permeate fashion.
Spring fashion week 2017 got increasingly political following the swearing in of President Donald Trump, political messages on the runway proved not so much a trend seven months later in September. Meanwhile, the spring 2018 fashion week runway had a distinctly female empowerment-driven feel given the growing coverage around the #MeToo movement at the time.
So this easily raises the question of what, beyond the fashions, would be the focus of this season's runway?
We're only two days into fashion week and if anyone was going to make a bold statement, it was going to be Scott, a designer known for making politically charged sartorial statements.
We'll be keeping a close watch to see if other designers or shows take on the United States' socio-political landscape.