Trump's midterm campaign message: Elect Republicans or I'll get impeached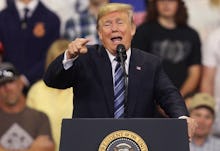 Democrats have largely appeared reticent to make the possible impeachment of Donald Trump a campaign issue heading into November's midterms.
But Trump himself is putting threats to his presidency front and center in his attempts to rally voters behind Republicans this fall.
During a rally for GOP Senate hopeful Matt Rosendale this week, he complained that it would be "ridiculous" for Democrats to try to oust him and claimed that doing so would turn the United States into a "third world country" — but, he said, it could happen if his supporters didn't turn out to the polls.
"How do you impeach somebody that's doing a great job?" Trump said during a Montana rally for Rosendale on Thursday. "We'll worry about that if it ever happens. But if it does happen, it's your fault, because you didn't go out to vote."
It was just the president's latest attempt to use the possibility of his own impeachment to energize his base — and it came as his administration appears to be in an increasing state of chaos.
A forthcoming book by Watergate reporter Bob Woodward paints him as unhinged and unqualified and his White House as being in a state of "nervous breakdown." In an explosive op-ed published by the New York Times this week, an anonymous senior administration official described a "quiet resistance" from within the White House to protect the nation from a reckless and erratic Trump.
Meanwhile, he's seemed increasingly rattled by investigations into his campaign's ties to Russia, along with illegal hush payments his former attorney made to women who allegedly had affairs with him years earlier. Both probes have appeared to creep closer to him in recent weeks.
The tumult has seemingly been reflected in recent polls, with an ABC News/Washington Post poll last week suggesting a plurality of Americans now support impeaching Trump. According to the poll, 49% of Americans said they support his impeachment, compared with 46% who oppose. The same poll found that a dismal 36% of voters approved of Trump's job performance, while 60% disapproved.
Trump has challenged that poll's accuracy, but he also seems to recognize that a "blue wave" in November could pose a threat to his presidency.
For months, he's been calling on his base to elect Republicans because of the specter of impeachment. Democrats, by contrast, have mostly tried to steer clear of impeachment talk — seemingly out of fear it could energize the president's base.
"I don't think we should be talking about impeachment. I've been very clear right from the start," House Minority Leader Nancy Pelosi told reporters in August. "On the political side I think it's a gift to the Republicans."
Impeachment would also remain challenging politically — even if Democrats do make gains in November. While articles of impeachment require only a simple majority to pass through the House, a two-thirds majority is required for the Senate to convict. Just two presidents have ever been impeached before — Andrew Johnson and Bill Clinton — and neither was convicted by the Senate. Richard Nixon was facing likely impeachment and conviction after the release of the Watergate tapes, but resigned in 1974 before he could be ousted.
Nevertheless, the coming midterms have been regarded as a referendum on the first two years of Trump's turbulent tenure in office, and Trump's allies — including former strategist Steve Bannon — have suggested the fate of his presidency may hang in the balance.
It's not yet clear if Democrats could try to impeach Trump if they take back Capitol Hill in November — a lot could depend on the outcome of special counsel Robert Mueller's Russia probe, which is examining possible collusion between the Trump campaign and the Kremlin, along with potential obstruction of justice on the part of the president.
But Democrats have already put Trump's ethical issues, temperament and fitness for office at the center of their midterm push, and the scandals that the Republican majority has shrugged off would likely be subjected to more intense investigation.
"Every news story is going to instigate a subpoena," a source told CNN in August.
Democrats have also said they'll push to release Trump's tax returns if they gain control of Congress.
And while top Democrats have tried to avoid talking impeachment, they have vowed stronger oversight of an increasingly tumultuous, ethically challenged administration.
"[Democrats] would finally do what Republicans have refused to do," Rep. Elijah Cummings (D-Md.) said this week. "And that is conduct independent, fact-based, and credible investigations of the Trump Administration."