Barack Obama steps into the arena to criticize Trump: "This is not normal"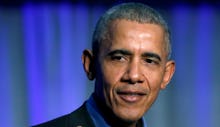 Former President Barack Obama returned to the political arena in Illinois on Friday to hammer President Donald Trump for chipping away at democratic norms and criticizing Republicans for letting him do it.
Obama name-checked Trump, saying he is the "symptom, not the cause" of people being fearful of change, and added that in order to change the political climate, Americans need to vote.
"Some of you may think I am exaggerating when I say this election is more important than any I can remember in my lifetime," Obama said in a speech at the University of Illinois. "But just a glance at recent headlines should tell you that this moment really is different."
Obama is re-entering the public eye two months before voters head to the polls for the midterm elections on Nov. 6. He said Friday that the elections are needed to be a check on Trump and what the Republican Party has become — filled with racial resentment and conspiracy theorists, Obama said.
"The claim that everything will turn out OK because there are people inside the White House who secretly aren't following the president's orders — that is not a check," Obama went on to say, referencing the recent op-ed by an anonymous White House official in New York Times that said there are people in the administration trying to protect America from Trump. "I'm being serious here. That's not how our democracy's supposed to work. These people aren't elected. They're not accountable." 
Obama was clearly exasperated by what he's seen in government since he left office in January 2017. He criticized Republicans for taking credit for an economic recovery that began under his presidency, and for enabling Trump to pressure the FBI and the Department of Justice to punish his political enemies.
Obama even brought up Trump's refusal to stand up to white supremacists who marched in Charlottesville, Virginia, in August 2017.
"We are Americans," he said. "We're supposed to stand up to bullies. Not follow them. We're supposed to stand up to discrimination, and we're sure as heck supposed to stand up clearly and unequivocally to Nazi sympathizers ... How hard can that be, to say that Nazis are bad?"
Obama, who is going on the campaign trail Saturday in California, touted the crop of Democratic candidates running for office in November and highlighted women who have stepped up to run on the Democratic side. And he implored Americans to vote for those leaders.
"You cannot sit back and wait for a savior," Obama said. "You cannot doubt because you don't feel sufficiently inspired by this or that candidate. This is not a rock concert. This is not Coachella. We don't need a messiah. All we need are decent, honest, hardworking people who are accountable and who have America's best interest at heart, and they'll step up."