This Week in Trump-Russia News: Even Trump doesn't seem confident he can tell Mueller the truth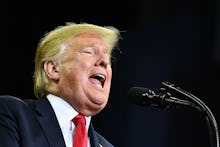 President Donald Trump is suggesting he'll meet with Robert Mueller — but under one condition.
In remarks to reporters on Friday, Trump expressed concern that he would be "set up for a perjury trap" if he sits down with the special counsel — echoing fears his legal team has been expressing for months.
The comments came as his lawyers continued to negotiate with investigators about a potential interview — and as his administration appears to fall deeper and deeper into chaos, in part because of Trump's "erratic behavior."
Here's what you need to know about the possible Trump-Mueller meeting — and everything else that came out of the Russia probe this week.
Trump worries over "perjury trap"
Trump's fear of "perjury" stems from his observation that some others around him that Mueller has brought down were done in, at least in part, by false statements they made to investigators.
Former Trump campaign aide George Papadopoulos, who was sentenced to 14 days in prison on Friday, and former national security adviser Michael Flynn were among those charged with making false statements.
"Everybody that looked at anybody over there, they get him on some kind of a lie," Trump told reporters on Friday aboard Air Force One. "So, I don't want to be set up with a perjury trap, No. 1. No. 2, there was no obstruction and there was no collusion."
Of course, an easy way to avoid committing perjury would be to tell the truth. But Trump has always had a difficult relationship with the truth, spewing falsehoods, exaggerations and outright lies on a daily basis.
As such, his legal team has sought to avoid allowing Trump to testify before Mueller, and lawyer Rudy Giuliani has attempted to set strict rules governing such an interview — including allowing the president to respond to at least some questions in writing and to restrict investigators from asking questions about obstruction of justice.
Mueller has been seeking an interview with Trump for months as part of his probe into possible collusion between the president's campaign and the Kremlin in 2016, along with potential obstruction.
Trump's team has been calling on Mueller to conclude the probe this week, two months away from the midterm elections. But the special counsel hasn't given any indication that he plans to do so.
He's still looking to interview Trump, and appears to be increasing his scrutiny on Roger Stone; two associates of the GOP operative appeared before Mueller's grand jury on Friday.
Stone — who apparently had contacts both with the fictitious online persona through which Russia disseminated stolen Hillary Clinton and Democratic Party emails and with WikiLeaks — is a longtime confidante of Trump and served as an unofficial adviser to his campaign.
It was also Stone who helped get Paul Manafort onto the Trump campaign; the ex-Trump campaign chairman was convicted last month on eight bank and financial fraud charges.
Manafort had sought to get his second trial moved from Washington, D.C., to Virginia, but Judge Amy Berman Jackson rejected his motion this week.
The call is coming from inside the White House
The negotiations between the Trump team and investigators comes as his White House descends deeper into chaos.
A forthcoming book by legendary Watergate reporter Bob Woodward painting the president as unhinged and his administration as dysfunctional has rocked the White House this week as excerpts from it began appearing in the media.
But things got even worse for Trump when an anonymous senior official penned an explosive op-ed in the New York Times describing a "quiet resistance" within the administration seeking to protect the nation from Trump's "whims" and "erratic behavior."
The unnamed writer says there's a "two-track presidency" in which Trump pursues one agenda while his administration pursues another.
That's particularly true with respect to Russia.
Trump has spoken positively about Vladimir Putin and has openly sought a warmer relationship with Russia. Meanwhile, his administration has continued to target Russia with sanctions and to pressure Moscow over its "malign" activity around the globe, including its 2014 invasion of Crimea.
"This isn't the work of the so-called deep state," the senior official wrote. "It's the work of the steady state."
Trump, of course, has been infuriated by the op-ed and called on Jeff Sessions to investigate the matter — something that could further strain his relationship with the attorney general.
He has also claimed that, in spite of the apparent dysfunction in his administration, his White House is running like a "well-oiled machine."
Obama hammers Trump, Republicans over Russia
But former President Barack Obama characterized his successor's administration differently on Friday.
In an address at University of Illinois, Obama — who had largely avoided directly criticizing Trump so far — railed against the "craziness" coming out of the Trump administration, including his relationship with Russia.
Obama slammed Trump for "cozying" up to Putin — and Republicans for failing to hold him accountable.
"What happened?" he asked, referencing Republicans' stronger posture toward Russia in the past.
Obama slammed Trump on a number of issues and railed against his divisive politics. He also emphasized the importance of voting.
"These are extraordinary times. They're dangerous times," Obama said. "We have the chance to restore some sanity to our politics."
It was a blistering rebuke of Trump, who responded shortly thereafter in a rally of his own in North Dakota on Friday afternoon.
"I watched it, but I fell asleep," Trump said. "I found he's very good — very good for sleeping."