Meet Kimberly Goldson, one of the black women who designed LeBron James' new Nike sneaker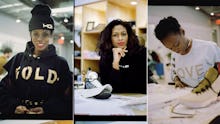 LeBron James' new Nike collaboration, "The Strongest," is a shoe dedicated to black women's strength. "Being the son, husband and father of strong African-American women, I felt like this was something I wanted to do for them and for all the strong women out there who are succeeding despite what might be stacked against them," James said Wednesday in a statement via Nike.
The message behind the shoe has already translated to commercial success — it went on sale Friday morning and sold out minutes after. But the project, a reimagining of James' LeBron 16 sneaker, is groundbreaking in that it's making more space for black women designers in the mainstream sneaker world.
"What I love about this moment is that we get to be the inspiration that tells young African-American women, boys and girls that something like this is possible," Kimberly Goldson, a former Project Runway contestant and one of three black women designers who worked on the collaboration, said in an interview Friday.
To jumpstart "The Strongest" creation process, Nike called on Brandice Daniels, the founder of Harlem's Fashion Row, a fashion collective that aims to "showcase the work of multicultural designers." Daniels handpicked Goldson, Felisha Noel and Undra Celeste Duncan. The trio's finished product is an angelic white shoe with gold accents, insoles stamped with empowering words like "courage" and "dignity," and a 3D lion figurine on the back of the shoe to symbolize women's strength.
Mic chatted with Goldson about what it means for James to use his platform to celebrate black women and how she formed a new sisterhood with Noel and Celeste during the making of "The Strongest" sneaker.
(Editor's note: This interview has been edited and condensed for clarity.)
Mic: Why is it so cool LeBron launched a Nike sneaker collaboration dedicated to black women's strength?
Kimberly Goldson: First off, it came from an organic place. He was having a post-game conversation and he mentioned that his mother was the strongest woman he knew and black women were the strongest people on earth. And from that, Nike said, "We need to really expound on this." It was never, "We need to create a shoe to capitalize on this moment of #BlackGirlMagic." And the fact that he has such a huge platform. He doesn't have to give a space where African-American women are highlighted. I mean, we couldn't ask for a better person for this to come from.
What were you thinking as you went into Nike's design lab in Portland for this process?
KG: It started out overwhelming for me because I'm self-taught. I went to [the Fashion Institute of Technology] but for merchandising. So my background was in the business behind fashion and then several years later, I needed that creative outlet, so I decided to teach myself how to sew. From there, that's how I landed on Project Runway. So when I knew we were going into the Nike corporate offices, into the design lab, a secret room, I was like, "Oh my goodness, I'm going to be found out as a fraud. Like everyone is going to realize that I'm not really a technically trained designer." So I was really nervous.
And this is the reason I know this was supposed to be the three of us. Because had it been me by myself, I probably would have been stunned [and] silent to the point where nothing would come to me. But luckily there was Undra and Fe. Once Undra began her input, it jumpstarted the process.
Can you name a specific quality you all brought to the table to make the design come to life?
KG: Of the three of us, I'm bold as far as my personality and my aesthetic, so I had the wild idea that needed to be tamed and brought down. And Fe comes from a very artistic and curated point of view. Her color palette is very intentional; it's very sophisticated. She knows what will really be seen as luxurious. And Undra probably has the most technical training, I think of the three. She knows better what processes would work and how to problem-solve. Our personalities meshed as well. That's how we were able to make the best shoe.
Did you all know each other before that process?
KG: We met at the Harlem Fashion Row 10th anniversary show in September 2017. [But] we really got to know each other the first time we did the preliminary meeting for working on the shoe. We clicked instantly and we've been sisters ever since.
When you were at Nike and working on the sneaker, was there a particular adviser who helped you?
KG: Meline Khatachourian, a Nike global basketball footwear designer, was our lead from Nike. So it really is a women's designed shoe. She was so awesome because she fought for us to make sure that our vision came to life. She's amazing.
I want to talk more about the design. The white and gold does give this shoe a luxurious feel. Why did you decide on that colorway?
KG: We wanted something that was really sleek [and] that was elevated in terms of luxury. That's why we have the premium leather band. Fe had the idea for the strap being removable and worn as a bracelet. And we knew that if we kept the color kind of minimalistic, it would be more wearable. It ended up in a different place from where we started because we were [originally] going bold and in your face in terms of color.
Can you tell me about the meaning of the lion figure on the back of the shoe?
KG: So LeBron, he's the king, and the lion is the king of the jungle. And so that represents strength, which is what the shoe is built on. What people don't realize is it's actually the female lion that's the strongest in the bunch, and it only makes sense for it to be on the woman's shoe. And the Nike team put its foot into getting that lion to look as beautiful as it did. It's 3D and functional, because you lace the laces through the mouth of the lion and they can go up around the ankle.
Were there any other details you included in the design to invoke the "The Strongest" theme?
KG: Yeah, we were looking for different touches, even small details. Nike uses the strongest knit that it's ever produced, specifically for LeBron's [shoes]. It's called the battle knit. And on the insole of the shoe, four words are written out. When you're opening the shoe, you see those words and you feel something. Courage. Dignity. Loyalty. Strength. And then you put your foot in them and now you're standing on those [words].
Before this opportunity, did you ever imagine you would design a sneaker?
KG: I always loved sneakers growing up. You know, you grow up as a kid in Brooklyn, and yes, it's all about wearing sneakers. Always been a Nike girl. But I never had a wild dream about designing a sneaker for the biggest athlete in the world right now. Like, how can you have that dream when you don't even know that that's a possibility? But what I love about this moment is that now we get to be the face of that possibility.
Would you ever design another shoe for Nike?
KG: Oh, absolutely, in a heartbeat. It was so much fun and a lot of hard work. But the biggest thing that I got out of it was two new friends I'm never letting go of. I love that we totally debunk the myth of black women not being able to work together. We shared resources, tools and solutions [and] we have become a support system for one another. That's the best thing that came out of this.