Mic Daily: Barack Obama trashes Trump — and other stories of the day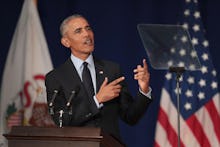 Welcome to Mic Daily: Mic's newsletter that cuts through the noise and lands in your inbox every weekday. We carefully curate each edition to send you a cross section of our most vital stories of the day.
Want more entertainment news in your inbox? Sign up for Hype Daily — Mic's morning entertainment briefing. It's got all the news you need to start your day.
While yet another media circus was pitching its tent outside the Oval Office, here are five stories from other corners of the Trump administration you might have missed this week.
Designer Jeremy Scott rocked a "Tell Your Senator No on Kavanaugh" T-shirt, complete with a phone number to call your senator, on opening night of New York Fashion Week.
The farm bill being negotiated in Congress could affect millions of Americans' access to food stamps, according to a new study released Thursday.
The study, conducted by nonpartisan research firm Mathematica Policy Research and the Robert Wood Johnson Foundation, found that if the version of the farm bill already passed by the House becomes law, nearly 2 million households that participated in the Supplemental Nutrition Assistance Program in 2015 would no longer be eligible for benefits.
While you may rarely crave bone marrow at 3 a.m., one New York butcher hopes to be there for you if you do — and change the way we think about buying cold cuts and ground meats in the process.
Former President Barack Obama returned to the political arena in Illinois on Friday to hammer President Donald Trump for chipping away at democratic norms and criticizing Republicans for letting him do it.
Obama name-checked Trump, saying he is the "symptom, not the cause" of people being fearful of change, and urged Americans to vote if they want to change the political climate.