Michael Cohen wants to tear up his $130K agreement with Stormy Daniels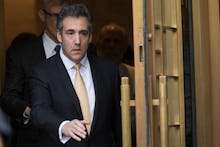 Former Trump lawyer Michael Cohen is attempting to void his and President Donald Trump's agreement with adult film star Stormy Daniels, CNN reported Friday.
Cohen's shell company Essential Consultants filed a status report Friday agreeing to tear up the agreement, which paid Daniels $130,000 in exchange for her silence about a relationship she had with Trump.
"Today, Essential Consultants LLC and Michael Cohen have effectively put an end to the lawsuits filed against them by Stephanie Clifford aka Stormy Daniels," Brent Blakely, Cohen's lawyer, said in a statement quoted by CNN. "The rescission of the Confidential Settlement Agreement will result in Ms. Clifford returning to Essential Consultants the $130,000 she received in consideration, as required by California law."
Daniels has already spoken out extensively about the agreement and her relationship with Trump, including in an interview on 60 Minutes. Trump and the White House have denied his relationship with Daniels took place, and Cohen previously sent a cease-and-desist letter to Daniels following the 60 Minutes interview.
Trump and Cohen's "hush money" payments to women have become a major legal concern for Cohen; the lawyer pleaded guilty to campaign finance violations in August regarding his payments to Daniels and ex-Playboy model Karen McDougal. Cohen's lawyer Lanny Daniels has suggested that Trump should also face charges over the payments.
Daniels' lawyer Michael Avenatti told CNN Friday he suspects the move to tear up the deal is a "Hail Mary" to avoid Cohen and Trump being forced to testify in court.
"What they're trying to do is they don't want me to get a chance to depose Michael Cohen and Donald Trump," Avenatti told CNN. "This is a hail Mary to try and avoid that, that's my first guess."
CNN reported that Avenatti later also suggested the move could be Cohen's attempt to get back in Trump's good graces, saying Cohen "is back to doing Trump's bidding and acting as a fixer."
Avenatti added on Twitter that the move to void the contract would not lead Daniels to settle her current lawsuits against Cohen and Trump. The lawyer also told the Washington Post Cohen's status report does not currently have any legal standing, as "[Trump] would have to agree for the NDA to be void."
"Let me be clear — my client and I will never settle the cases absent full disclosure and accountability," Avenatti tweeted Friday. "We are committed to the truth. And we are committed to delivering it to the American people."