Sen. Susan Collins isn't swayed by Brett Kavanaugh email saying 'Roe v. Wade' isn't "settled law"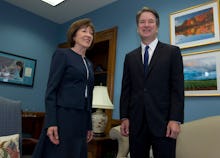 Sen. Susan Collins (R-Maine) has dealt what could be a fatal blow to the campaign against Brett Kavanaugh's U.S. Supreme Court nomination, as the senator admitted she wasn't swayed by a leaked 2003 email in which Kavanaugh said Roe v. Wade wasn't "settled law."
Following the email's release, which was previously deemed "committee confidential" by Senate Republicans and blocked from public view, Collins' office said in a statement to the Portland Press-Herald that they didn't believe it contradicted Kavanaugh's past statements on Roe as "settled law." Collins, a pro-abortion rights Republican, is considered to be a vital swing-vote for Kavanaugh's nomination along with Sen. Lisa Murkowski (R-Alaska).
"Judge Kavanaugh stated two facts: not all legal scholars agree that Roe is settled law and three judges on the Court at the time were anti-Roe," Collins spokeswoman Annie Clark said. "As Judge Kavanaugh clarified at this morning's hearing, he was not expressing his personal views. The email does not contradict Judge Kavanaugh's statements that he believes Roe to be settled law and that he agrees it is important precedent."
Collins herself made a similar statement, telling Politico Thursday that while she hadn't yet read the email, "I am told that he was editing an op-ed for clarity and was merely stating a fact that three judges on the court were anti-Roe."
"If that's the case then, and it's not expressing his view, then I'm not sure what the point is," Collins continued.
In the 2003 email, which was sent during Kavanaugh's tenure in the George W. Bush administration, the now-judge is responding to an op-ed draft concerning the confirmation of an appeals court nominee.
"I am not sure that all legal scholars refer to Roe as the settled law of the land at the Supreme Court level since Court can always overrule its precedent, and three current Justices on the Court would do so," Kavanaugh wrote in the email.
Collins has highlighted Kavanaugh's view of Roe as "settled law" to defend her support of the Supreme Court nominee, despite saying before his nomination she would not vote for a nominee who is "hostile" toward Roe. Many reproductive rights advocates believe Kavanaugh would provide the deciding vote to overturn Roe or significantly weaken abortion rights on the Supreme Court — a view that advocates and Senate Democrats believe was confirmed by the 2003 email.
The Maine senator's support of Kavanaugh is seemingly in defiance of her own constituents, 49% of whom do not want her to confirm Kavanaugh. Activists have raised nearly $400,000 for Collins' opponent in her 2020 re-election campaign if she votes to confirm Kavanaugh; the money will be returned to donors if she votes against his nomination.
Collins' support is crucial to Kavanaugh's nomination, as Republicans currently hold a 51-49 majority in the Senate with the recent confirmation of Sen. John McCain's successor John Kyl. Every single Democrat, along with both Collins and Murkowski, would have to vote against Kavanaugh for his nomination to fail.
Kavanaugh maintained that he views Roe v. Wade, which legalized a woman's right to obtain an abortion, as an "important precedent" during his recent Senate hearing, including when he was asked directly about the 2003 email.
"Roe v. Wade is an important precedent of the Supreme Court. It's been reaffirmed many times," Kavanaugh said Thursday, as quoted by the Press-Herald. The nominee added that his email was merely summarizing the view of other legal scholars.
Abortion advocates and Senate Democrats, however, weren't convinced by Kavanaugh's testimony, in which he also falsely described birth control pills as "abortion-inducing drugs." Senators on both sides of the aisle have acknowledged that Roe could be overturned by the court despite being precedent.
New York University law professor Melissa Murray testified during the Senate hearing that Kavanaugh's judicial record shows "a cramped reading of the right to liberty and personal decision-making that distorts or ignores existing precedent."
"Although [Kavanaugh] claims to follow precedent, his actual decisions reveal a deep skepticism of the principles and values that animate these precedents," Murray's testimony noted. "In decisions concerning women's bodily autonomy and their exercise of certain constitutional rights, like the right to contraception and the right to an abortion, Judge Kavanaugh has ignored, distorted or undermined existing precedents."