Blaming Ariana Grande for Mac Miller's death is a cruel way to grieve the late rapper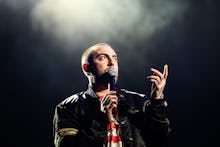 Mac Miller never made his struggles with drug addiction a secret. Five years ago, in an online cover story for Complex, the Pittsburgh-bred emcee, who tragically died Friday at the age of 26 reportedly of an overdose, acknowledged that in order to help manage his growing stress, he began using and gradually became addicted to promethazine.
"I was not happy and I was on lean very heavy," Mac told Insanul Ahmed. "I was so fucked up all the time it was bad. My friends couldn't even look at me the same. I was lost."
His issues with substance abuse continued for years — resulting in his arrest for a DUI and a hit and run in May in which he fled the scene and then later confessed once the police arrived at his home. He reportedly blew two times the legal limit into a breathalyzer.
Miller, who was born Malcolm James McCormick, was a talented musician beloved by many of his peers, but as many of us know, being exceptional and being loved does not always tamp down whatever demons lie within.
In the digital age, the shock and grief over untimely deaths can just as swiftly switch to anger thanks to the callousness of those who, for one reason or another, cannot be respectful even when grace is practically begging to be present. When you lose someone tragically — notably as a result of their addiction — it is natural to want to search for answers and to want to reflect on how this could have been prevented. Unfortunately, many also look for a person to blame, and regrettably, many have set their sights on Mac Miller's ex-girlfriend, Ariana Grande.
Mere moments after Mac Miller's death was reported, quite a few people on my social media feeds immediately proclaimed that they hoped Ariana Grande would be left alone. I wanted that request to be one of those things people complain more about happening than it actually happened. I wanted to believe that people were going to be better than that.
Of course, they weren't.
The people who feared that Grande would be scapegoated by inconsiderate and ignorant fans of Mac Miller, or in other cases, just casual misogynists who never waste an opportunity to take shots at a woman, were proven right. It was instantaneous.
The volume of these types of messages is obscenely high.
The comments also spilled over to Instagram to the point that Grande has since disabled comments. A little over a year ago, Grande had to bury 22 fans that were killed by a terrorist at one of her concerts. Has she not been through enough?
It did not help matters that TMZ, who broke the story of Miller's death, contributed to this problem by mentioning his overdose "in the wake of his breakup with Ariana Grande" in the article. Although TMZ does include comments from Grande that directly challenge the notion she is to blame, the invocation is there all the same. It makes me question whether whomever is responsible for this piece truly grasped the weight of how referencing her may impact the minds of readers.
Drug addiction kills, but the same can be said of the tales we share in light of the losses. It is not fair to hold partners — current or former — responsible for the actions of someone else. We do not need to romanticize death in such a superficial manner. It makes more sense to have substantive, honest conversations about addiction and death.
Earlier in the year, Ariana Grande made this point clear following Miller's arrest for the aforementioned DUI.
In response to a fan on Twitter commenting on her relationship with her now fiance, Saturday Night Live alum Pete Davidson, she said: "How absurd that you minimize female self-respect and self-worth by saying someone should stay in a toxic relationship because he wrote an album about them, which btw isn't the case (just Cinderella is ab me). I am not a babysitter or a mother and no woman should feel that they need to be."
She went on to say that she has "cared for him and tried to support his sobriety," but in the end, "shaming/blaming women for a man's inability to keep his shit together is a very major problem."
Grande was compassionate, clear and eloquent, and yet months later, many rush to lay the burden on her. Their zealotry and blind allegiance may comfort them, but in reality, Grande cared more about Mac Miller than these strangers ever did. Whatever grief these fans may be feeling, it does not compare to the pain of someone who actually knew him, loved him and wanted him to overcome his problem.
I'm sorry for Mac Miller, his family and all of the people in his life who now have to mourn him. I'm even sorry for the people who, in the wake of news of his death breaking, decided to lash out and exhibit cruelty, banality and for lack of better phrase, no damn home training. Mac Miller lost the battle to his demons, but hopefully, these people get a chance to overcome the ones they're putting on full display across social media.
We need to be better to each other. It's sad that I can't fathom that happening anytime soon. Compassion may not be able to cure everything, but it certainly has a greater impact than this brand of inhumanity.