This Week in Politics: Voters will choose Cuomo or Nixon, and Kavanaugh could be confirmed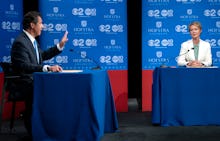 Following a week marked by U.S. Supreme Court nominee Brett Kavanaugh's contentious Senate hearing and anonymous allegations about the Trump White House, the political world is on edge in the weeks leading up to the midterm elections.
Primary races will wrap up this week with elections in New York, Rhode Island and New Hampshire, as candidates Cynthia Nixon and Gov. Andrew Cuomo battle for New York's Democratic gubernatorial nomination.
President Donald Trump, faced with criticism from within his own administration that the he is a danger to the country if left unchecked, will nonetheless head back out on the campaign trail to support Republican candidates in Missouri and Mississippi ahead of the November midterms.
Back in Washington, Congress will face a busy schedule this week, as lawmakers work to pass spending bills and avert a government shutdown while senators begin deliberating Kavanaugh's nomination.
Here's what to expect from the political world in the week ahead.
Congress: Congress will continue working this week on passing spending bills before the current budget expires on Sept. 30. Trump has been pushing for Congress to meet his border security demands in their budget, including border wall funding, which could potentially set the stage for a government shutdown. Congressional leaders Paul Ryan and Mitch McConnell have reportedly been attempting to convince Trump to save his border security showdown for after the November midterms, however — even bringing in props to their meeting with the president to bolster their case — and the president has tampered his shutdown threats in recent days.
Following the end of Kavanaugh's Senate Judiciary Committee hearing Friday, swing-vote senators will now be forced to decide their positions on Kavanaugh before a Senate confirmation vote by the end of the month. The Senate Judiciary Committee is currently scheduled to vote on Kavanaugh's nomination Thursday, although Politico noted that committee Democrats — who voiced strong opposition to Kavanaugh throughout his Senate hearing — have the ability to delay the vote for a week.
The Senate is also expected to vote this week on a bipartisan opioids package, which would stop the inflow of synthetic drugs and expand prevention, treatment, recovery and research efforts. The House previously passed its own opioid measures in June, which will have to be reconciled with the Senate bill.
Primary elections: Following months of campaigning and elections, the primary election season for the 2018 November midterms will come to an end this week, as voters in New Hampshire, Rhode Island and New York head to the polls on Tuesday, Wednesday and Thursday, respectively.
The most prominent race to watch this week will be in New York as current Gov. Andrew Cuomo and actress Cynthia Nixon vie for the Democratic gubernatorial nomination. The contentious race marks the latest instance of a progressive challenger taking on an establishment candidate or prominent incumbent, following recent progressive upsets by Alexandria Ocasio-Cortez in New York, Andrew Gillum in Florida and Ayanna Pressley in Massachusetts.
The New York primary will also include the state's attorney general race, as candidates fight for the nomination following former Attorney General Eric Schneiderman's May resignation in the wake of sexual misconduct allegations.
Gubernatorial elections will also be taking place in New Hampshire and Rhode Island, where progressive Democratic candidate Matt Brown is similarly challenging incumbent Gov. Gina Raimondo.
Congressional races include a Rhode Island race for the Senate seat currently held by Sen. Sheldon Whitehouse, who was a prominent Democratic participant in Kavanaugh's Senate hearing. In New Hampshire, a crowded slate of 11 candidates is vying for the Democratic nomination in the state's 1st U.S. House of Representatives district, including Sen. Bernie Sanders' son Levi Sanders.
Trump's agenda: President Donald Trump will head back out on the campaign trail this week ahead of the November midterms, holding a campaign rally Thursday in Missouri for Missouri Attorney General Josh Hawley as he challenges Sen. Claire McCaskill's Senate seat. On Friday, Trump will head to Mississippi to campaign for incumbent Sen. Cindy Hyde-Smith, whom he said on Twitter has "helped me to put America First!"
Trump will spend the beginning of his week in Washington, D.C., where he has meetings scheduled with Vice President Mike Pence, Defense Secretary Jim Mattis and Secretary of State Mike Pompeo. The president and first lady Melania Trump will attend a memorial service Tuesday for Flight 93 and the Sept. 11th terrorist attacks.
Climate change summit: Climate change advocates from around the world will converge in California this week for the Global Climate Action summit, a three-day summit that kicks off Wednesday in San Francisco. The summit, which was initiated by California Gov. Jerry Brown after Trump pulled out of the Paris Climate Accord, will focus on climate change efforts at the sub-national level by cities, states and other smaller regions. State and local leaders in the U.S. vowed to retain their commitment to the Paris climate agreement after Trump removed the U.S. from the pact in June 2017.
The summit will be led by Brown and former New York Mayor Michael Bloomberg, and will be attended by climate scientists, researchers, politicians and prominent figures, including former Vice President Al Gore and primatologist Jane Goodall.
Ahead of the summit, activists from around the world took to the streets Saturday to demand action on climate change. More than 900 events in 95 countries took place as part of the worldwide day of protests, including U.S. protests in such cities as San Francisco, Boston, Miami and Portland, Oregon.