Serena Williams fined $17K for U.S. Open argument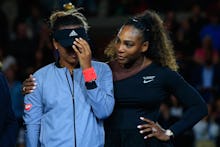 Tennis champion Serena Williams was fined $17,000 following her controversial U.S. Open loss to Japanese tennis player Naomi Osaka Saturday — and sports professions and fans, including tennis legend Billie Jean King, were quick to point out the double standard on display in how Williams was treated.
Osaka's win came as Williams was given a game penalty and multiple code violations by chair umpire Carlos Ramos. Williams was initially penalized for what Ramos deemed to be a coaching violation when her longtime coach Patrick Mouratoglou made a motion from the player's box. She was then subsequently penalized for smashing her tennis racket onto the court and for verbal abuse after arguing with Ramos, telling him, "You stole a point from me and you are a thief."
"If he gives me a thumbs up, he's telling me to come on," Williams told Ramos after the coaching violation, as quoted by the Washington Post. "We don't have any code, and I know that you don't know that and I understand why you may have thought that was coaching, but I'm telling you it's not. I don't cheat to win, I'd rather lose."
The penalties ultimately resulted in the tournament referee's office issuing three fines of $10,000 for verbal abuse, $4,000 for the coaching warning and $3,000 for breaking her racket, the Associated Press reported. The charges will be deducted from Williams' $1.85 million in prize money as the tournament's runner-up.
Following the match, King congratulated Osaka on Twitter for her win, but also noted that "several things went very wrong" during the match — including the double standard on display with Williams' violations.
"Several things went very wrong during the @usopen Women's Finals today," King wrote on Twitter. "Coaching on every point should be allowed in tennis. It isn't, and as a result, a player was penalized for the actions of her coach. This should not happen."
"When a woman is emotional, she's 'hysterical' and she's penalized for it," King added in a subsequent tweet. "When a man does the same, he's 'outspoken' & and there are no repercussions. Thank you, @serenawilliams, for calling out this double standard. More voices are needed to do the same."
King has long been a crusader for gender equality in tennis, including pay equality for men's and women's tennis games. In 1973, King took on male tennis player Bobby Riggs, who believed women's tennis to be inferior to men's, playing against him in a game deemed the "Battle of the Sexes" — and winning.
The tennis legend's charge of a double standard was echoed by many following the U.S. Open game, as the sports world and other figures called out Ramos' seemingly unfair behavior. Williams' herself pointed the biased treatment out during the game, saying about her penalties, "There's a lot of men out here that have said a lot of things and because they're a man, that doesn't happen to them."
"Serena is right: Men players get away with far more abusive language to chair umpires and it seems like every player's coach signals from the box without getting called for it," sports journalist Skip Bayless noted on Twitter, though he added he's "not sure Serena would've survived against sensational Naomi Osaka" even without the penalties.
Illinois State Rep. Juliana Stratton wrote on Twitter that Williams' treatment "will resonate with women everywhere—especially women of color."
"Too often, when we speak up, we are penalized," Stratton noted.
Others had a more forgiving take on Ramos' calls; after first calling Ramos' decisions "the worst refereeing I have ever seen," tennis player Andy Roddick followed up on Twitter, writing, "Common sense should've prevailed in my opinion. He's within his power to make that call."
"I've seen an umpire borderline coach a player up, and another dock a game for being called a thief in same tourney," Roddick continued. "There needs to be some continuity in the future."
Despite Ramos' treatment, Williams was praised for her composure following the match, as she celebrated Osaka's first Grand Slam win. The 20-year-old tennis player became the first Japanese woman to win a Grand Slam title with Saturday's victory.
"What Serena did on the podium today showed a great deal of class and sportsmanship," U.S. Tennis Association president Katrina Adams said in a statement. "This was Naomi's moment, and Serena wanted her to be able to enjoy it. That was a class move from a true champion."
"[Williams] is an inspiration to me, personally, and a credit to our sport, win or lose," Adams added. "I know that she was frustrated about the way the match played out, but the way she stepped up after the final and gave full credit to Naomi for a match well-played speaks volumes about who she is."