With Mac Miller's death, hip-hop has lost a true companion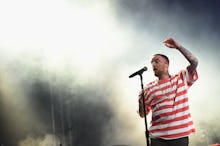 The biographies of many hip-hop stars often focus on struggle, so Mac Miller might've been a tough sell to purists. He was a fairly well-off Pittsburgh native who had an architect dad and a photographer mom. By the time he was a high school senior, Mac had released three mixtapes and signed a record deal with Rostrum Records; before reaching 20, he dropped two more mixtapes and his 2011 album, Blue Slide Park, the first independent debut to top the Billboard 200 since 1995.
It's something of a miracle that such quick, seemingly unencumbered success is incidental to Mac Miller's story. The industry notoriously can be petty and cruel, but it's come to see Mac as a mensch, and there's always a specific bitterness when we lose such a person to unseen demons. That was a pain felt worldwide when news of Mac's death from an apparent drug overdose spread on Friday afternoon. He was 26.
Mac's growth as a creative and as a person always felt existentially in step with today's mid-twentysomethings. Mac Miller was a major face in the frat-rap trend, a subgenre bustling at the turn of the decade that was marked by saccharine beats and an overall boyish, party-every-day look at the world (think Asher Roth and Chiddy Bang). It's a lane that's generally hard to take seriously: Mac's breakout mixtape, 2010's K.I.D.S., was a promising but harmless introduction to a kid with skills and Blue Slide Park got pilloried by critics.
But the man formerly known as Easy Mac was at least an exceptional non-college-going frat boy — the mantras were sophomoric ("Up All Night": "Drink drink drink drink drink 'til we can't no more") but they stuck. At 80% of my college parties, the common denominators were Pabst Blue Ribbon and Mac's hit "Donald Trump."
But if 2011 Mac Miller went well with beer pong, 2012's Macadelic and everything onward filtered that raucousness through the realities outside of the campus. Pittsburgh's son went on to tangle with unconventional production that swerved away from pop accessibility, and his now-nationwide fanbase has followed him through those woozy textures. Mac's sophomore album, 2013's Watching Movies With the Sound Off, managed to get its due shine despite coming out the same day as Kanye West's Yeezus and J. Cole's Born Sinner.
To be a Mac Miller fan is to be omnivorous. His writing and production would pivot frequently until his death, switching from horrorcore provocateur (2013's Delusional Thomas) to funhouse experimentalist (2014's Faces) between mixtapes, and sliding from rosy R&B (2016's The Divine Feminine) to aquatic funk (this year's Swimming).
But no matter how much he added to his bouillabaisse, Mac never came across as dilettantish. He had a pure love of the culture and respected its racial dynamics. The appreciation was mutual; look at how often his relationships with his collaborators exude true companionship. Mac's mixtapes are treasure troves that include some of Vince Staples, Earl Sweatshirt, and Schoolboy Q's finest verses. The bonds continued outside of the recording booth: A quick look at the stream of tributes after Mac's death reveal these weren't artists simply paying their respects — they had genuinely lost a piece of themselves.
But for someone who loved collaboration and will drop a near-90 minute mixtape, Mac Miller became sneakily good at making his project deeply intimate. Taken in front-to-back, they tend to feel softly hermetic, with just enough of Mac's grinning humor and insight to give a comforting sense that you, too, are alright in this space. Surrealistically, some of his best bars imply that his headspace mirror your own. Mac's "The world don't give a fuck about your loneliness" off of GO:OD AM's "Rush Hour" is an earworm chant that expresses a specific anxiety: Yes, you're fighting your battles; so is everyone else.
Elsewhere, he was in search of clarity like the rest of us, like on Movies' "REMember," where he raps vividly about still being in the throes of grief. Swimming, his best, comes from an achingly self-aware man striving for inner solace — or, as he puts it on "Come Back to Earth," "I just need a way out of my head/I'll do anything for a way out."
Mac was also tragically human. His growth since Macadelic coincided with his descent into drug abuse. In The Fader's documentary Stop Making Excuses, French Montana is seen cautioning Mac Miller against pouring himself a strong concoction of lean. The scene comes about less than a minute before Mac is heard in a voiceover ruminating about overdosing: "You don't go down in history because you've overdosed. You just die." On a deeper level, it seemed like he feared loneliness, which he hinted at as he discussed his reaction to Prince's death with Complex. "Prince gave so much to his music and died relatively alone," he said. "I'm two weeks into a session with no connection to anyone unless they're in the room. I'm thinking that could be me."
Death and drugs are hexes that cloud Mac's work, even more so with the details of his passing. But even through that cloud, fans and peers have latched onto the inviting warmth that's made him easy to root for. Perhaps the Instagram tribute from Ariana Grande, whom Mac dated for a couple of years, is how he'd be best remembered. In a black-and-white photo, he's sitting in the shadow with a glint in his eye, looking skyward. There is no caption.