Trump's "deploy or get out" policy could force HIV-positive soldiers into early retirement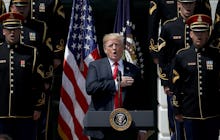 Sgt. Nick Harrison dedicated his life to the U.S. military, but the military might soon forsake him.
An 18-year Army and National Guard veteran, Harrison graduated at the top of his class in law school, completed tours of duty in Afghanistan and Kuwait and had aspired to cap off his nearly two decades of service by advising other military members as a lawyer in the Judge Advocate General's Corps. But Harrison was diagnosed with HIV six years ago, and that changed everything.
On Feb. 14, just over a year after President Donald Trump took office, the U.S. Department of Defense issued a memo announcing it would, beginning Oct. 1, discharge service members who have been unable to deploy outside of the U.S. for more than 12 consecutive months "for any reason." Because the military has considered anyone with a positive HIV diagnosis to be nondeployable since the 1990s, long-serving officers like Harrison would fall under the memo's purview. This would result in more than 1,000 service members effectively being forced out of their jobs.
Known as "deploy or get out," the Trump administration crafted the policy as part of an effort to "reduce the number of non-deployable service members and improve readiness," according to the memo. But in an interview with Mic, Harrison said the idea an HIV-positive status should automatically disqualify someone from serving in the U.S. military is antiquated and stigmatizing — a vestige of the AIDS crisis of the late 1980s and early 1990s the medical community has long since walked back.
"Medical professionals have said that HIV shouldn't be a disqualifying factor for years now," Harrison said. "How long does it take to rewrite the policy? We want to do our jobs just like everyone else."
Harrison, who says he currently takes one pill a day to manage his HIV — "like a vitamin in the morning" — has what's known as an undetectable viral load, meaning doctors can no longer find the virus in his blood. The disease is untransmittable at that point, according to the Centers for Disease Control and Prevention, something Harrison said makes him fully capable of performing his usual physical duties as a U.S. service member.
Harrison's team of lawyers at Lambda Legal (along with co-counsel at Winston & Strawn LLP) filed suit against Defense Secretary James Mattis and the Department of Defense over the policy in May, arguing that Harrison was denied the promotion he sought because of his HIV status. Lambda Legal also filed for a preliminary injunction in July to stop the policy from taking effect in October.
"This case is not just about me," Harrison said in a statement. "This is about every person living with HIV knowing that they can perform any job in the world, including serving in the military. I look forward to the day that I can serve my country to the full extent of my abilities, based on my performance and unfettered by unfounded fears and misperceptions about HIV."
Harrison isn't the only person the lawsuit represents, at least in name. According to policy and advocacy group AIDS United, there are an estimated 1,200 people with HIV currently serving in the U.S. military, all of whom stand to be impacted by the policy.
In the wake of the Pentagon's initial announcement in February, Veterans Affairs Secretary Robert Wilkie — then the under secretary of defense for personnel and readiness — told a Senate Armed Services subcommittee that "on any given day, about 13 to 14% of the force is medically unable to deploy."
"That comes out to be about 286,000 [service members]," Wilkie said.
It's a staggering number, Wilkie told the subcommittee — one he likened to Jeff Bezos walking into Amazon to discover 14% of his employees were unable to work.
"He would no longer be the largest company in the world," Wilkie said.
The same month, Command Sgt. Maj. John Troxell told the Military Times a large share of that number — roughly 99,000 service members — are on the list for simple administrative reasons, like not being current on vaccinations. An additional 20,000 are not deployable due to pregnancy; another 116,000 aren't deployable because of short- or long-term injuries, Troxell said.
The reasoning for the policy change, Wilkie said in February, stemmed from a July 2017 memo from Defense Secretary James Mattis that stipulated "everyone who comes into the service and everyone who stays in the service is worldwide deployable."
But Scott Schoettes, HIV project director at Lambda Legal and one of the lawyers representing Harrison, said in an interview with Mic that modern medical advancements have made it so there's currently "no job in the world that a person living with HIV cannot safely perform."
The challenges with stigma, he added, remain most strongly felt by personnel who work hand-in-hand with other people: first responders, police officers, firefighters and health care workers living with HIV.
"I think that those are the areas that are kind of the cutting edge, where people perceive that there would be some type of risk if a person living with HIV was performing in one of those jobs," Schoettes said. "And the fact is that there isn't."
The "deploy or get out" policy is just the latest from the Trump administration to target minority service members. The president himself tweeted in July 2017 that after consulting with generals and military experts, he would no longer allow transgender individuals "to serve in any capacity in the U.S. military."
"Our military must be focused on decisive and overwhelming victory and cannot be burdened with the tremendous medical costs and disruption that transgender in the military would entail," he tweeted.
Despite federal courts swiftly blocking the policy in multiple cases, the Trump administration has pressed on with its attempts to limit the number of transgender individuals in the military's employ.
Aside from the obvious side effects a discharge would elicit for Harrison — the loss of work and psychological toll, for example — another pitfall looms large. Normally, a military pension kicks in after 20 years of service. Harrison has currently completed 18 years of service, and though he had no plans to retire early, he could potentially face the loss of his pension should he be discharged against his will come Oct. 1.
DOD spokeswoman Jessica Maxwell declined to offer specifics on how retirement benefits would be affected by the policy shift, but said in an emailed statement that service members "will continue to be processed for separation under these standing policies and procedures and will receive the benefits appropriate to their status and circumstances from DOD and the Department of Veterans Affairs."
Maxwell also said "the impact of HIV disease progression and potential treatment regimen complications and medication side effects may impact a service member's readiness," despite medical advances in HIV treatments.
"Even well-managed HIV infection carries risks of complications, comorbidities, potential transmissibility and logistical challenges," she added.
A judge will hear arguments Sept. 14 concerning Lambda Legal's motion for a preliminary injunction on the "deploy or get out" policy. But until then — for Harrison and for thousands of others — a lifetime of military service hangs in the balance.
"We're fully ready to volunteer and go on all these deployments," Harrison said. "All we need is for the staff officers who are in charge of the HIV policy to just change the policy and get out of our way."
Alex Berg contributed to this report.
Check out episode 17 of Mic Dispatch above — only on Facebook Watch.
To catch future episodes of Mic Dispatch, follow Mic Dispatch on Facebook Watch. For more stories about the show, visit the Mic Dispatch collections page.