Hype Daily: Les Moonves is out at CBS and more entertainment news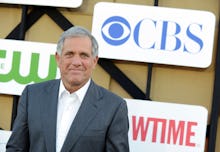 Welcome to Hype Daily, Mic's morning entertainment roundup. Here's everything you need to catch up on in the entertainment world and what to look forward to today. Want to receive this as a daily email in your inbox? Subscribe here.
Good morning readers, happy Monday and Shanah Tovah to those of you observing Rosh Hashanah. Let's get right into the latest entertainment news — there's a lot to catch up on!
Les Moonves is officially out at CBS
News broke Sunday night that CBS CEO Les Moonves is leaving the company after a series of allegations of sexual harassment and assault made against him. The most recent allegations were detailed in the New Yorker Sunday, just hours before it was announced Moonves would make his exit.
Notably, Moonves is leaving CBS without a massive severance package, CNN Money reported Sunday. Instead, CBS said it will wait to determine Moonves' severance, and the amount will "depend upon the results" of the company's ongoing internal investigation. And, the company said, a donation of $20 million will be made immediately to organizations that support the #MeToo movement — and that money is coming out of any severance Moonves may get.
Serena Williams lost to Naomi Osaka at the U.S. Open
I know, I know, sports news isn't exactly my beat here, but this seems big enough for us to talk about. On Saturday night, tennis legend Serena Williams played Japan's Naomi Osaka in their final match at the U.S. Open. Osaka eventually won — but it was a bittersweet victory.
During the match Williams was given a warning from umpire Carlos Ramos for "illegal coaching," saying Williams was getting "hand signals" from her coach. Williams denied it and debated the warning with the umpire, at one point saying "I don't cheat. I'd rather lose. Every time I play here, I have problems," CNN reported. Ramos also docked a point from Williams for smashing her racket and gave her a full-game penalty after she called him a "thief."
Williams — and plenty of fans who were watching Saturday night — criticized Ramos for a sexist double standard, pointing out male tennis players engage in similarly hotheaded behavior on the court. But Williams' frustration was directed at the ump, not at Osaka, who she hugged and congratulated after the match.
John Legend joined the elite EGOT crew
John Legend became one of a handful of entertainers to achieve an "EGOT" — winning an Emmy, Grammy, Oscar and Tony — Sunday night, when he earned an Emmy for Jesus Christ Superstar Live in Concert at the Creative Emmys, the precursor to next week's big awards show. The musical, which Legend both produced and starred in, won in the outstanding variety special category. Legend's win makes him the first black male artist to achieve EGOT status — he joins entertainers like Audrey Hepburn, Mel Brooks, Whoopi Goldberg and Robert Lopez.
Legend has the chance to score another Emmy next week at the main awards show: He's also nominated for lead actor in a limited series or movie for his role in the televised musical. Congrats on your EGOT, John!
Ariana Grande shared a caption-less photo of Mac Miller
Singer Ariana Grande shared a simple black and white photo of her late ex, Mac Miller, on Instagram Saturday, a day after the 26-year-old rapper died at his home in California. Grande disabled comments on her Instagram account, maybe because of a flood of vicious attacks unfairly blaming her for Miller's death. Miller's untimely death is a tragedy all-around, and being mean on Instagram doesn't help anyone, OK?
Put this on your radar: American Vandal season 2
American Vandal, the true-crime mockumentary from Netlfix that was a sleeper hit with its dick-joke-focused first season (it's about so much more than the dick jokes, I promise) will drop its second season Friday. Season two will focus on a new set of pranks at a different high school — this time around, get ready for poop jokes. Check out the trailer here.