Today in Trump's America: Is the Senate in play?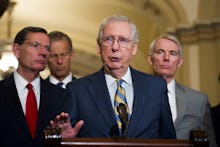 Welcome to Mic's daily read on Donald Trump's America. Want to receive this as a daily email in your inbox? Subscribe here.
Good morning from Emily Singer at Mic.
Here's what's happening in Trump's America:
• Shanah Tovah to all of the NTA readers celebrating Rosh Hashanah!
About the weekend: North Korea escalates effort to build nuclear weapons, NBC reports
Intelligence officials say North Korea is still making nuclear weapons despite negotiations with Trump, NBC News reported Monday morning.
According to NBC's report, Kim Jong Un has "escalated efforts" to hide its nuclear warhead storage facilities. This comes after Trump thanked Kim Sunday for holding a military parade without displaying the country's nuclear weapons.
"Thank you To Chairman Kim," Trump tweeted. "We will both prove everyone wrong! There is nothing like good dialogue from two people that like each other! Much better than before I took office."
Capitol Hill happenings: Is the Senate in play?
Given the contentious territory Democrats are defending on the Senate map, many political observers wrote off the party's chances of reclaiming the upper chamber of Congress and instead focused on the House.
However, less than two months from Election Day, polls show there is a small — but very much real — possibility the Republican Senate majority is also at risk.
A handful of polls released over the past week showed Democratic incumbents running in states Trump won by wide margins maintaining leads. Other polls also showed Democrats either within reach or ahead in other states Trump won, such as Mississippi, Tennessee and Texas.
The most shocking poll came in the open Tennessee Senate race, being vacated by retiring Republican Sen. Bob Corker. An NBC News/Marist poll found Democrat Phil Bredesen — the state's former governor — leading GOP Rep. Marsha Blackburn, 48% to 44%. Bredesen's lead in Tennessee — where Trump still has a positive approval rating — is thanks to the former governor's personal popularity. A whopping 59% of registered voters have a favorable impression of Bredesen, as opposed to the 44% of registered voters who view Blackburn favorably.
Meanwhile, another NBC News/Marist poll found Sen. Joe Donnelly (D-Ind.) leading his GOP opponent by six points, despite the fact Trump carried the state handily and Vice President Mike Pence served as its governor before ascending to the White House.
Sen. Ted Cruz (R-Texas) is also looking exceedingly vulnerable, with polls having him just slightly ahead of Democratic Rep. Beto O'Rourke in the traditionally Republican state. Politico reported Sunday Texas' elected officials sent "urgent" warnings to the White House that Cruz is in danger of losing. Trump is set to hold a rally in the state to juice turnout, though it's unclear what impact that will have on the contest.
Of course, Senate Democrats have an extremely narrow and perilous path to a majority. They'll need to net two seats to flip the chamber, which would require them to hold onto most, if not all, seats currently held in states Trump carried by double digits.
The fact Democrats now have a slight path to the majority with a map as bad as 2018?s shows just how big the headwinds Republicans face this cycle are.
"OK. So maybe the Senate is 'in play,'" Stu Rothenberg, a non-partisan political handicapper, tweeted. "That's the first time I have said or written that. Gotta go with the numbers."
And the rest...
More woes for Florida GOP gubernatorial nominee: The Washington Post reported Sunday Rep. Ron DeSantis, the Trump-backed Republican nominee for governor in Florida, attended conferences set up by David Horowitz — a racist and Islamophobic conservative activist.
"I just want to say what an honor it's been to be here to speak," DeSantis said at a 2015 event hosted by Horowitz in Charleston, South Carolina, according to the Washington Post. "David has done such great work and I've been an admirer. I've been to these conferences in the past but I've been a big admirer of an organization that shoots straight, tells the American people the truth and is standing up for the right thing."
This is not the first time DeSantis has come under fire for racially charged incidents. After winning the gubernatorial nomination in August, DeSantis said Florida voters shouldn't "monkey this up" by electing his Democratic opponent Andrew Gillum, the black mayor of Tallahassee.
New York governor's race gets nasty: Democratic Gov. Andrew Cuomo is under fire after the New York Democratic Party sent a mailer accusing Cuomo primary opponent Cynthia Nixon of not standing up to anti-Semitism. Nixon is raising her children Jewish and attends a synagogue in New York. Cuomo has sought to distance himself from the mailer, saying he didn't know about it — a denial the New York Times Editorial Board says "strains credulity." This all comes days before the state's Sept. 13 primary where Cuomo and Nixon will face off. Polls show Cuomo with a hefty lead. However, insurgent progressive candidates like Noxon have out-performed polls in a handful of contests this cycle, including in a House primary in New York City, in which Alexandria Ocasio-Cortez felled longtime Democratic Rep. Joe Crowley.