Kelly Rowland on chair umpire who fined Serena Williams at US Open: "Men say way worse on the court"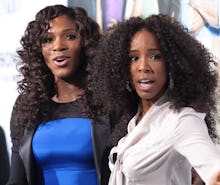 Singer Kelly Rowland spoke out in Serena Williams' defense about chair umpire Carlos Ramos fining the tennis superstar $17,000 during her U.S. Open finals loss to Naomi Osaka on Saturday. Williams called Ramos "a thief" and accused him of being sexist.
"The first thing I thought of was men say way worse on the court," Rowland told the Associated Press in a video that was posted on Monday. Rowland, who calls Williams one of her best friends, attended the U.S. Open finals on Saturday.
"But because it's a female, you want her to stay, I don't know, I don't know what you want," Rowland continued. "But don't put her in a box of what you feel like she should be."
The latest sports controversy stems from Ramos penalizing Williams after her coach Patrick Mouratoglou made a movement with his hands. (Mouratoglou says he did coach Williams from the stands, but does not think she saw his motions.) Williams reacted to this penalty by smashing her tennis racket onto the court and told Ramos she would rather lose than cheat. Ramos subsequently penalized her again after she told him, "You stole a point from me and you are a thief."
"If he gives me a thumbs up, he's telling me to come on," Williams told Ramos in reference to Mouratoglou's movements, according to the Washington Post. "We don't have any code, and I know that you don't know that and I understand why you may have thought that was coaching, but I'm telling you it's not. I don't cheat to win, I'd rather lose."
Williams was handed a total of three fines: $10,000 for verbal abuse, $4,000 for the coaching warning and $3,000 for breaking her racket, the Washington Post reports.
During a post-match press conference, Williams contends that she had the right to react to the way Ramos was treating her.
"The fact that I have to go through this is an example for the next person that has emotions and that want to express themselves and they want to be a strong woman and they're going to be allowed to do that because of today," Williams said. "Maybe it didn't work out for me but it's going to work out for the next person."
Rowland also thinks Williams standing up for herself sets an example for other women who find themselves facing double standards in their lives.
"She is the voice for so many of us," Rowland said. "So I feel like when you speak from a passionate place, which she always does — she spoke up for herself. And he was a thief. You're a thief, man."