Florida counties now must offer Spanish-language ballots ahead of dead-heat November votes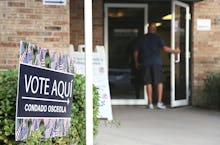 Puerto Ricans who settled in Florida in the aftermath of Hurricane Maria will have an easier time voting in November after a state judge ruled Friday that 32 of the state's counties must offer Spanish-language ballots to voters.
Civil rights organizations and a Spanish-speaking Florida voter sued in August to compel Florida counties to provide Spanish-language ballots and election materials, arguing that not doing so was in violation of the Voting Rights Act of 1965. The act specifically provides for the rights of voters from Puerto Rico, stipulating that a voter educated in non-English speaking schools — in Puerto Rico, or otherwise — cannot be denied the right to vote "because of his inability to read, write, understand or interpret any matter in the English language."
"Voting in a language you do not understand is like asking this court decide the winner of the Nobel Prize for chemistry — ineffective, in other words," U.S. District Judge Mark Walker wrote in his ruling. "Courts have long held that the right to vote includes not only the right to physically enter a polling place and fill out a ballot but also the right to comprehend and understand what is on that ballot."
"It is remarkable that it takes a coalition of voting rights organizations and individuals to sue in federal court to seek minimal compliance with the plain language of a venerable 53-year-old law," Walker added.
The Center for Puerto Rican Studies at Hunter College reported in March that the Puerto Rican population in Florida has soared to an increase of over 56,000 following Hurricane Maria. The transplanted citizens add to the state's already robust Latino population; the Pew Research Center reported in 2014 the state had the third-highest Hispanic population in the country, with 4,790,000 Hispanic residents — 24% of the state's total population.
"While lost on some, Puerto Rico is part of the United States," Walker acknowledged in the ruling. "Puerto Ricans are American citizens. Unique among Americans, they are not educated primarily in English — and do not need to be. But, like all American citizens, they possess the fundamental right to vote."
Walker did not grant the plaintiffs the full preliminary injunction they had requested, citing the short timeline between the ruling and November voting, and the "significant hardships" the added requirements would place on election administrators. While the ruling will make sample ballots available in Spanish for all voters, both mailed and available online, the partial injunction does not grant the organizations' request for bilingual poll workers, a bilingual voter assistance hotline or a bilingual voters guide.
Friday's ruling is the latest legal battle over voting rights in Florida, which in recent months has also included decisions on student voting and voting rights for people who have been convicted of felonies.
"Here we are again," Walker, who previously ruled in favor of early voting on college campuses in July, wrote in Friday's ruling. "The clock hits 6:00 a.m. Sonny and Cher's 'I Got You Babe' starts playing. Denizens of and visitors to Punxsutawney, Pennsylvania, eagerly await the groundhog's prediction."
"And the state of Florida is alleged to violate federal law in its handling of elections."
These legal battles could prove influential to the November midterms, as the swing state's most closely watched races are currently at a dead heat. Democratic gubernatorial candidate Andrew Gillum — whose election strategy is contingent on getting voters of color to the polls — was ahead of Republican challenger Ron DeSantis by just 3 points in a Quinnipiac University poll published Tuesday, and the U.S. Senate race between current Gov. Rick Scott and incumbent Sen. Bill Nelson is currently tied in the polls, with 49% each.