This cartoon of Serena Williams and Naomi Osaka is being called out for presenting racist tropes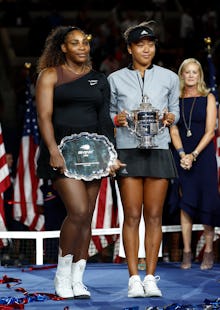 A cartoon in an Australian newspaper is being called racist for its depiction of Serena Williams' behavior at the U.S. Open finals match against Naomi Osaka Saturday. The illustration shows the moment Williams smashed her tennis racket onto the court in response to chair umpire Carlos Ramos penalizing her for a coaching violation.
The cartoon creator is Mark Knight, the editorial cartoonist for Australia's Herald Sun. On Monday, Knight tweeted the cartoon which appears in Monday's issue of the newspaper.
In the illustration, Williams is shown jumping on a racket and next to it is a baby pacifier. Several feet away, a chair umpire is shown saying to her opponent, "Can you just let her win?" In the cartoon, the woman who is supposed to be Naomi Osaka is faceless and looks white with blond hair. Osaka is of Haitian and Japanese descent.
The image implies that Williams' response to Ramos' penalties was immature and that she was a sore loser for speaking up for herself. Ramos fined her a total of $17,000 for verbal abuse, breaking her racket and for a coaching warning. Williams contends that she was treated unfairly by Ramos and that treatment of her was sexist because men have said worse things and were never fined.
The National Association of Black Journalists Sports Task Force denounced the cartoon of Williams and Osaka in a statement Monday afternoon. The organization called Williams' depiction "sambo-like."
"The racist cartoon of Serena Williams and Naomi Osaka by Mark Knight of the Herald Sun is repugnant on many levels. The Sept. 10 cartoon not only exudes racist, sexist caricatures of both women, but Williams' depiction is unnecessarily sambo-like. The art of editorial cartooning is a visual dialogue on the issues of the day, yet this cartoon grossly inaccurately depicts two women of color at the US Open, one of the grandest stages of professional sports."
On Twitter, several critics pointed out that the way Williams is drawn mirrors racist and stereotypical cartoon portrayals of black people in media during the early 1900s.
Author J.K. Rowling called out the image for perpetuating these tropes.
"Well done on reducing one of the greatest sportswomen alive to racist and sexist tropes and turning a second great sportswoman into a faceless prop," Rowling wrote Monday morning.
Sports and culture commentator Jemele Hill wrote that the cartoon's messaging is "about as subtle as Fran Drescher's voice," referencing the character Fran Fine from the '90s TV series The Nanny.
Sarah Parcak, professor and space archeologist, said she "reported this racist cartoonist to Twitter for abuse and encourage you to do so as well." She continued, "This is sickening. Not the first time he's penned a racist cartoon — am shocked this garbage is allowed."
Pam Keith, a former candidate for the Democratic nomination for Florida's 18th Congressional District, also thought Knight's post invoked racist imagery from the past.
"Did you mean for this to come off as racist as it does?" wrote Keith on Monday. "Because it was a punch to the gut. Felt like I was looking at an archived cartoon from the 1930s. Wow.... just, yeah.... wow. Whatever point you were trying to make, you revealed a WHOLE LOT more about you, than Serena."
Knight says his depiction of Williams was not sexist because he had drawn a cartoon a few days prior of "Australian male tennis player Kyrgios at the US Open" who was "behaving badly."
"Don't bring gender into it when it's all about behaviour," he tweeted in response to sports writer Julie DiCaro. "I'll accept your apology in writing."
But Knight has not yet responded to critiques that he's presented racist tropes in the cartoon.
Sept. 10, 2018, 3:32 p.m.: This story has been updated