Christian Cowan celebrates the beauty of women on his New York Fashion Week Spring 2019 runway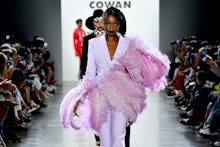 On Saturday afternoon, designer Christian Cowan, who Mic profiled on a recent episode of Mic Dispatch, finally unveiled his SS19 collection — his fourth showing at New York Fashion Week. Mic caught up with the designer backstage ahead of the show.
"He just needs to run to the bathroom real quick, is that OK?" a PR assistant asked minutes before the runway was set to begin. Of course it was. After all, that left more time to gaze upon models, including Leomie Anderson, Duckie Thot and Aqua Parios, all of whom were getting their final touch-ups before heading onto the runway.
When Cowan returned, hair freshly dyed bright green, he was a distinctly calming force among the manic energy of hair dressers, makeup artists and PR people who were frantically getting everything in order.
"The collection is about all the women who have raised me up to where I am now," Cowan said in an interview with Mic. "And that's everyone from Cardi B, who's supported me from the beginning, to my mother, who would always wear fabulous trouser suits and pencil skirts. You'll really see those different kind of women all represented throughout the collection."
The runway also included headwear (as well as an entire look made out of sunhats) from designer Eugenia Kim as well as the debut of Cowan's shoe collaboration with Giuseppe Zanotti.
Cowan is also adapting the see-now-buy-now model early in his career, which many competing brands have been slow to recognize. Beyond making his fashion line available, he's working to make it more accessible.
"What I've been really focusing on this season is that I didn't want a collection that's only available at a high price point, and I didn't want to do a diffusion line, so I've mixed everything together into what I call my inclusion line so there's a price point for everyone," he said.
Another exciting going-on backstage: the last-minute announcement that five-time Grammy Award winner Christina Aguilera would be sitting front row — one of the few pop stars Cowan has yet to dress.
"I feel very lucky," he said. "I obviously fucking love Christina. I mean, since day one. She's the OG chaps lady, and chaps have been my thing."
Does he think this might be the gateway to getting Aguilera outfitted in Cowan ahead of her Liberation tour set to kick off in just a few weeks?
"Absolutely," he said. "We're already working on that, too."
Below, take a look at some highlights from the collection.