Emmys 2018: Peter Dinklage wins for outstanding supporting drama actor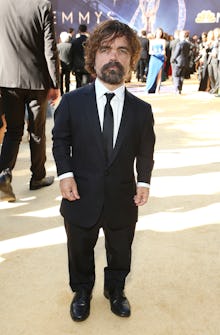 Peter Dinklage won the award for best supporting actor in a drama during Monday night's 70th annual Emmy Award ceremony. Dinklage took the Emmy for his role as Tyrion Lannister in Game of Thrones.
Dinklage thanked the Game of Thrones series creators David Benioff and Daniel Brett Weiss along with his wife during his acceptance speech.
"Thank you Dave and Dan for changing my life," Dinklage said. "I cannot walk down the street anymore. But you are honestly the most talented, amazing people I know besides my wife Erica, who I think I forgot to thank a couple years ago. So thank you Erica for putting up with me. I'm very temperamental. I love you very much."
Other actors nominated for the best supporting drama award included Nikolaj Coster-Waldau, Game of Thrones' Jaime Lannister; Mandy Patinkin, Homeland's Saul Berenson; David Harbour, Stranger Things' Jim Hopper; Matt Smith, The Crown's Prince Philip; and Joseph Fiennes, Commander Waterford in The Handmaid's Tale.
This is the third time Dinklage has won this award; the Game of Thrones star also collected the trophy in 2011 and 2015.
Check out Mic's full list of Emmy winners here.