Designer Marco Marco debuts an all-transgender roster on his New York Fashion Week runway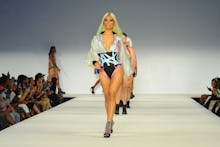 Collection Seven, the latest line from Marco Marco, made history Saturday for presenting an entirely transgender roster of models at the designer underwear brand's New York Fashion Week runway show — the most trans men ever assembled on a NYFW runway.
"Although I have always had trans and non binary people in my shows, it became apparent to me that their presence was often overshadowed by cis gay men or cis gay men in drag," designer Marco Morante said in an interview when asked about the casting. "I wanted to create a space to celebrate trans bodies. This was an opportunity for their presence to be undeniable and reinforce that trans is beautiful."
Pose stars Dominique Jackson and Angelica Ross walked alongside Transparent actress Trace Lysette and YouTuber Gigi Gorgeous as well as models Geena Rocero, Laith Ashley, Carmen Carrera, Aydian Dowling and Arisce Wanzer. That's not even half the cast, which included 34 models.
"There's an ongoing needed conversation of inclusion in the past fashion seasons that borderlines on tokenism," Geena Rocero, who opened the show, said in an interview. "But the real tea is that being trans is not a trend; it is life, beauty and power."
"I flirted with modeling in my early 20s while living in NYC but I had always been shut out because of my curves," Trace Lysette said in an interview. "I'm too thick for industry standards and not thick enough for plus size. It was nice to be on a runway where none of that mattered and I could let my hourglass be what it is and be confident that the fashion industry is waking up to the many different body types, shades and experiences of this thing we call beauty."
"This was such a historic moment, and a statement for the fashion industry," Laith Ashley said in an interview. "Many of the guys had never done something like this before and they displayed so much self-confidence, unity, and courage. Marco has always had a diverse runway, and to have an all trans show, with individuals of all different ages, sizes, backgrounds, colors and identities within the trans umbrella was spectacular."
Morante is among a small crop of designers, most notably Gogo Graham, who have chosen to prioritize the casting of trans models both on the runway and in fashion presentations.
Below, check out stills from the runway:
Sept. 12, 2018, 5:14 p.m.: This story has been updated.