Emmys 2018: Joel Fields and Joe Weisberg win for outstanding drama writing for 'The Americans'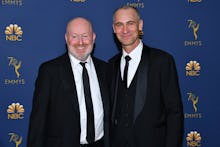 The Emmy for outstanding drama writing went to Joel Fields and Joe Weisberg for The Americans on Monday night, marking the first win for The Americans in this category.
The FX show's final series concluded May 30.
Game of Thrones, which was ineligible for the Emmys in 2017, won the outstanding drama writing award in 2015 and 2016. The Handmaid's Tale took home the award in 2017.
Check out Mic's full list of Emmy winners here.