Emmys 2018: Claire Foy wins for outstanding lead actress in a drama series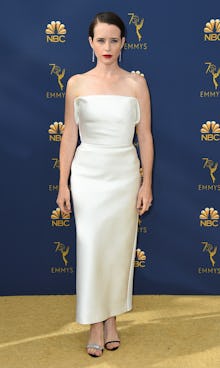 Claire Foy won the award for outstanding lead actress in a drama series at the 70th annual Emmy Awards Monday night for her role as Queen Elizabeth II in Netflix's The Crown.
During Foy's acceptance speech, she reacted to winning the award over Sandra Oh, who is the first Asian actress to be nominated in the category.
"This wasn't supposed to happen," Foy said. "I just felt so proud of ... being in the company of such extraordinary performances and I know everyone's talking in the moment about women in the industry but if that's nothing to go by, bloody hell. And that's technically not swearing. But Sandra Oh, I just love you," she continued.
Fellow nominees in the category included Elisabeth Moss nominated for her role in Hulu's The Handmaid's Tale, Keri Russell for FX's The Americans, Sandra Oh for BBC America's Killing Eve, Evan Rachel Wood for HBO's Westworld and Tatiana Maslany for BBC America's Orphan Black.
Both Moss and Maslany have won the award recently: Moss for her work on The Handmaid's Tale in 2017 and Maslany for her work on Orphan Black in 2016.
Check out Mic's full list of Emmy winners here.