Mic Daily: The aftermath of Brett Kavanaugh's rocky hearing — and other news of the day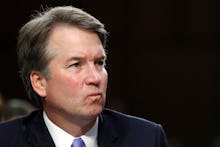 Welcome to Mic Daily: Mic's newsletter that cuts through the noise and lands in your inbox every weekday. We carefully curate each edition to send you a cross section of our most vital stories of the day.
Want more entertainment news in your inbox? Sign up for Hype Daily — Mic's morning entertainment briefing. It's got all the news you need to start your day.
Supreme Court nominee Brett Kavanaugh's hearing before the Senate Committee on the Judiciary ended Friday, putting his confirmation in the hands of the full Senate.
With the next Supreme Court term set to begin Oct. 1, the clock is ticking for Kavanaugh to either be confirmed or stopped from moving on to the bench by Democrats and two swing-vote Republicans.
Collection Seven, the latest line from Marco Marco, made history Saturday for presenting an entirely transgender roster of models at the designer underwear brand's New York Fashion Week runway show.
"Although I have always had trans and nonbinary people in my shows, it became apparent to me that their presence was often overshadowed by cis gay men or cis gay men in drag," designer Marco Morante said in an interview. "I wanted to create a space to celebrate trans bodies. This was an opportunity for their presence to be undeniable and reinforce that trans is beautiful."
The 70th Primetime Emmy Awards are happening soon, and this year's slate of nominations puts a handful of actors, writers, directors and shows in position to make history.
Here's your guide to who has a chance at going down in the television history books if they win Emmy gold (not including John Legend, who already earned his EGOT at the Creative Emmys on Sunday).
The Dallas police officer who returned home to the wrong apartment Thursday evening and fatally shot the unarmed black man who actually lived there, allegedly thinking he was an intruder, was arrested by Texas authorities Sunday night.
Singer Kelly Rowland spoke out in Serena Williams' defense about chair umpire Carlos Ramos fining the tennis superstar $17,000 during her U.S. Open finals loss to Naomi Osaka on Saturday. Williams called Ramos "a thief" and accused him of being sexist.
"The first thing I thought of was men say way worse on the court," Rowland told the Associated Press in a video that was posted on Monday. Rowland, who calls Williams one of her best friends, attended the U.S. Open finals on Saturday.