Hype Daily: Nicki Minaj bashes Cardi B on 'Queen Radio' and more entertainment news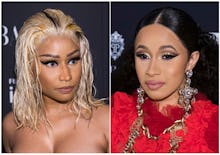 Welcome to Hype Daily, Mic's morning entertainment roundup. Here's everything you need to catch up on in the entertainment world and what to look forward to today. Want to receive this as a daily email in your inbox? Subscribe here.
Good morning readers, welcome to a fresh new edition of Hype Daily. Let's get straight into the news.
Nicki Minaj talked about her fight with Cardi B. on Queen Radio
Just to catch you up if you somehow missed this — Nicki Minaj and Cardi B. got into an altercation at a fashion week party this weekend that involved yelling and possible shoe throwing. Later, in an Instagram note, Cardi seemed to say that Nicki had talked trash about her child. Well, on Monday, Nicki went on her Queen Radio show to talk about the fashion week fight.
"The other night I was part of something so mortifying and so humiliating to go through in front of a bunch upper echelon … people who have their life together," Nicki said, according to Vulture. "The way they passed by looking at this disgusting commotion. I was mortified." Then Nicki said she had never talked about Cardi's baby, accused Cardi of attacking other women and called her a "disgusting pig." Looks like this feud isn't going away anytime soon.
Julie Chen was absent from The Talk yesterday
Julie Chen, a host on the CBS daytime talk show The Talk, was absent from Monday's season premiere after news that her husband, former CBS CEO Les Moonves, was leaving the company after a series of allegations of sexual harassment and assault. According to the Associated Press, Chen's fellow hosts took the stage "somberly" on Monday to break the news that Chen would be taking time off from the show. Then they went on to discuss the Moonves news.
"Whatever times I've had of hardship over the last eight years, Julie has always been there for me," host Sharon Osbourne said. "It's very embarrassing and upsetting to have to talk about her husband, but we feel it's right."
Everyone at TIFF is freaking out over A Star Is Born
Film critics have descended on our neighbor to the north for the annual Toronto International Film Festival, and one of the movies generating the most festival buzz is Bradley Cooper's remake of A Star Is Born, due out in theaters next month.
As the Associated Press reported on Monday in a dispatch from Toronto, the film "has provoked the kind of mania rarely seen in even the feverish realm of a film festival," with fans and critics alike fawning over its stars and sobbing in the screening. So does the festival hype mean A Star Is Born is an Oscar shoe-in? No, I take that back, let's not talk about the Oscars yet.
Jay Ellis opened up about his return to Insecure
If you haven't seen the most recent episode of Issa Rae's HBO dramedy Insecure, look away now. If you have seen it, you know that the gals' disastrous trip to Coachella ended with Issa face-to-face with her ex, Lawrence, played by Jay Ellis. Fans had suspected Lawrence might be absent from the whole season after Rae made a comment that the show was taking a break from the character, and the #LawrenceHive was not happy about that.
But now Lawrence is back, though we don't know for how long. In an interview with Vulture published on Sunday, Ellis spoke about the "break" that his character took. "It's something that happens in real life," he said. "You break up with someone and you take a break. That's just the nature of relationships, the seasons of relationships, and the seasons of life, right?"
Ellis also said he appreciated the strong fan reaction to his character. "I don't think I ever expected it to grow to what it grew to be, but I hoped people would miss Lawrence," he said. "I hoped he would resonate with people and that people related to him enough where they'd be like, 'Man, I miss him, I want to see him on TV,' because you don't get to see a lot of guys like him, especially a lot of black characters of color who are going through all the ups and downs he's going through — the relationship stuff, the vulnerability."
Put this on your radar: The Blood Is at the Doorstep
The 2017 documentary The Blood Is at the Doorstep, which examines the story of Dontre Hamilton, an unarmed black man who was shot and killed by Milwaukee police in 2014, is now available on demand from the Sundance channel and will come to ITunes and Amazon on Sept. 28.
Hamilton was sleeping outside in a Milwaukee park when police were called on him. Christopher Manney, a Milwaukee officer, shot Hamilton 14 times. The film follows Hamilton's family's quest for answers and justice after his death. The Hollywood Reporter called it a "clear-eyed film" that "finds hope within terrible circumstances, and strength within heartbreak." Watch a trailer for the documentary here.