Today in Trump's America: Trump's approval rating plummets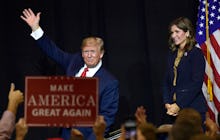 Welcome to Mic's daily read on Donald Trump's America. Want to receive this as a daily email in your inbox? Subscribe here.
Good morning from Emily Singer at Mic.
Here's what's happening in Trump's America:
• It's a gloomy day here in New York on the 17th anniversary of 9/11. The day has always had great significance for me, as I grew up in a very close suburb of New York that was heavily impacted by the attack.
Today's question: Where were you on 9/11, and how has your life changed since that day?
Email us at TrumpsAmerica@mic.com with your thoughts. I'll put your responses in Wednesday's newsletter.
About last night: Poll shows Trump's approval rating takes a nosedive
A narrative has formed that nothing Trump does matters for his approval rating. But polls out over the past few days should put that narrative to rest, as Trump's approval has fallen sharply in a number of high-quality polls released over the past few days.
Both CNN and Quinnipiac University released polls Monday, which show Trump's approval at an abysmal 36% and 38%, respectively.
"An average 3-point decline is rather remarkable for a president whose approval rating has been one of the steadiest on record," CNN's Harry Enten wrote in an analysis piece on Trump's approval slide. "It would suggest that something the president did had a real impact on public perception."
Numbers like that for a sitting president could prove catastrophic for Republicans in the midterm elections this fall.
Today in Trump's America: U.S. believes Russia is behind mystery attack on a U.S. embassy in Cuba
NBC News reports U.S. intelligence agencies believe Russia is behind the mysterious attacks on a U.S. diplomats in Cuba that began in 2016 and have continued through this year and led to brain injuries on officials in the embassy in Havana.
According to NBC News' report, the evidence is "not yet conclusive enough" for the U.S. to officially blame Russia for the attacks. But the intelligence community reportedly has evidence from "signals intelligence" it has collected.
If Russia is behind the attacks, it's yet another escalation by the country against the United States and could provide a fresh test for Trump's ability to stand up to Russian President Vladimir Putin.
Trump failed that test in June, when he was laudatory of Putin after a one-on-one summit in Helsinki, leading to rebukes from those of all political stripes.
And the rest...
Bagelgate: New York Democratic gubernatorial hopeful Cynthia Nixon is facing questions about why on earth she would order a cinnamon raisin bagel with lox, onions, tomato, capers and plain cream cheese. I, and many other New Yorkers, think that combo is truly gag-worthy. But Nixon is defending her bagel choice. "Don't yuck my yum," Nixon told reporters after the bagel order caused a stink. "Don't knock it 'til you try it." (I will not be trying it.) Bagelgate comes just days before the state's Sept. 13 primary. Polls project Nixon losing badly to current Democratic Gov. Andrew Cuomo.
Remorseful?: Former Trump aide George Papadopoulos, who pleaded guilty to lying to the FBI in its Russia investigation, was sentenced to 14 days in jail Friday because a judge thought he was "remorseful." But a tweetstorm Papadopoulos went on Monday night raises questions about how remorseful he in fact is.
In late-night tweets, Papadopoulos spouted conspiracy theories and attacked the Australian diplomat who reported Papadopoulos' drunken comments about Russia having "dirt" on Hillary Clinton. This is what led to the FBI's Russia investigation in the first place.
Legal experts say Papadopoulos' Twitter rant could get him in trouble.
"That scream you hear in the distance is from the legal team of George Papadopoulos, who has begun offering his thoughts on various subjects related to the Russia investigation on Twitter," former federal prosecutor Renato Mariotti tweeted.