Trump is preparing for a second meeting with Kim Jong Un, White House says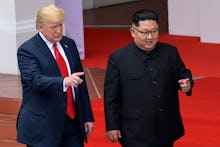 A second meeting between President Donald Trump and North Korean strongman Kim Jong Un is in the works. The White House announced Monday that Kim in a letter had requested another meeting with Trump in recent days, and that the administration is currently negotiating a second summit with the North Korean regime.
"The president has achieved tremendous success with his policies so far," press secretary Sarah Huckabee Sanders said in a daily briefing on Monday. "And this letter was further evidence of progress in that relationship."
The announcement comes months after the two leaders first met in Singapore, where they settled on a vague agreement aimed at denuclearizing the peninsula. Trump hailed that June summit as a success, even going as far as to say that Pyongyang "no longer" posed a nuclear threat following the meeting.
But it's unclear if any real progress has been made in the three months since. North Korea did not conduct a nuclear missile test during the summer, which they did multiple times in 2017 — those tests triggered threats of retaliation and schoolyard insults from the president. In July, North Korea also returned remains of American soldiers to the United States.
On the other hand, members of Trump's own foreign policy team have indicated that North Korea has not yet taken adequate steps toward denuclearization. Talks have also hit a standstill in recent weeks. In August, Trump announced that he had canceled a North Korea visit by Secretary of State Mike Pompeo because "we are not making sufficient progress with respect to the denuclearization of the Korean Peninsula" — in part, he suggested, because of the trade war between the U.S. and China, Pyongyang's closest ally.
Not only has North Korea failed to take steps toward denuclearization, NBC News reported Monday the country appears to still be producing nuclear weapons, and the Trump administration appears to be toughening up its posture, looking to intensify its so-called "maximum pressure" campaign against Pyongyang.
That's not how Trump has portrayed the situation in statements online and on the campaign trail. On Twitter on Sunday, he cheered that North Korea had celebrated the 70th anniversary of its founding without staging a nuclear test.
"Thank you To Chairman Kim," Trump tweeted Sunday morning. "We will prove everyone wrong. There is nothing like good dialogue from two people that like each other!"
"Much better than before I took office," Trump added.
The president also bragged about his relationship with Kim during a campaign rally in Montana on Thursday, suggesting he was confident that Pyongyang will ultimately denuclearize.
"We have a good feeling," Trump said at a rally for GOP Senate hopeful Matt Rosendale on Thursday.
"He likes me, I like him," Trump added of the North Korean dictator.
Sanders on Monday did not disclose the contents of Kim's recent letter to Trump, nor did she indicate where the second summit could take place or what would be on the agenda.
Trump's initial summit with Kim marked the first time a sitting U.S. president met with a North Korean leader, but critics charged that he provided legitimacy to the strongman on the world stage without getting concrete concessions in return.