Will the year of the woman continue? What to watch for in this week's primaries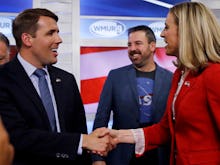 Tuesday marks the final congressional primaries of 2018, when voters in New Hampshire and Rhode Island head to the polls to pick their nominees for November's midterm elections.
New York also has primaries on Thursday for state and local races — such as the heavily watched gubernatorial primary, a primary for state attorney general and some state Senate primaries where Democrats are hoping to oust so-called "turncoat" Democrats who have been aligned with Republicans to deny Democrats a majority in the chamber. New Yorkers already selected their congressional nominees in a primary in June, when Alexandria Ocasio-Cortez's surprise upset primary victory over Rep. Joe Crowley.
Either way, after Thursday, primary season will officially be over. Here's what to watch for in the final primaries of 2018.
New Hampshire's 1st District
Voters in the Granite State are picking their nominees in an open-seat race to replace retiring Democrat Rep. Carol Shea-Porter.
The 1st District is the more competitive of the state's two House seats. President Donald Trump carried it by a slim 2-point margin in 2016, though Hillary Clinton won the state overall. It's flipped control back and forth multiple times since 2006 between Shea-Porter and former Rep. Frank Guinta (R-N.H.). In 2018, for the first time in more than a decade, both parties will have a nominee not named Shea-Porter or Guinta.
Democrats and Republicans each have crowded primary fields in the race. On the Democratic side, the primary has come down to a fight between Executive Councilor Chris Pappas, an out gay state elected official, and Maura Sullivan, a former assistant secretary of Veterans Affairs and an Iraq War veteran.
The primary will be another test of the year of the woman, and whether Sullivan's gender and profile can help carry her over Pappas, who has the support of the three other women in the state's congressional delegation.
Two other Democrats are also running, but are not expected to win: Naomi Andrews, Shea-Porter's former chief of staff, and Levi Sanders, the son of Sen. Bernie Sanders (I-Vt.), who has taken heat for both not living in the district and for being combative.
On the Republican side, there's been controversy surrounding one of the front-runners: state Sen. Andy Sanborn, who is accused of making a suggestive comment to a former intern about oral sex in 2013. Those accusations could sink his bid and boost the chances of Eddie Edwards, a former local police chief and a Navy veteran.
No matter who wins, the race starts out favoring the Democratic nominee, with Inside Elections saying the race tilts Democratic.
Rhode Island governor
Democratic Gov. Gina Raimondo is trying to survive a primary challenge in Rhode Island.
Raimondo, who is increasingly unpopular in the state, is facing a primary from former Secretary of State Matt Brown, who is running as a progressive. Brown has labeled Raimondo a "Republican in disguise," and is hoping to become the next progressive insurgent to topple an "establishment" Democrat in 2018.
If Raimondo wins her primary, polls show she has a tough race against Republican Allan Fung, with polls showing the contest a dead heat. That makes it a state with a competitive gubernatorial election, despite the fact that Hillary Clinton won Rhode Island by a 15.5% margin in 2016.
The showdown for New York governor
New York Gov. Andrew Cuomo is looking to survive a Democratic primary from actress and progressive activist Cynthia Nixon on Thursday.
The race has turned ugly in the final days, with the New York Democratic Party sending a mailer saying Nixon doesn't stand up to anti-Semitism — despite the fact that Nixon is raising her children Jewish and attends a synagogue in New York.
Cuomo is also facing controversy over the opening of the new Tappan Zee Bridge, which looked to be rushed in order to give Cuomo an edge in Thursday's primary.
Nevertheless, polls show Cuomo with a massive lead — one that would really raise questions about pollsters' ability to survey the state should he actually lose on Thursday.
New York attorney general
Another compelling race to watch on Thursday is a crowded Democratic primary for attorney general in New York. The position is big, as the person who is elected is the top law enforcement officer in the same state that Trump has many of his businesses. Investigating Trump could give whoever is elected to the role a springboard to higher office down the road.
Three top-tier Democrats are running. One is Tish James, the New York City public advocate and former city councilwoman who has Cuomo's backing.
Then there's Rep. Sean Patrick Maloney, an out gay member of Congress from upstate New York who represents a seat Trump carried by a 2-point margin in 2016. If he wins, he could imperil that House seat for Democrats, who are hoping to take back control of the chamber in 2018.
The third major candidate is Zephyr Teachout, a Fordham University law professor who has run two failed political contests: once in 2016 for House and once against Cuomo in a primary in 2014. Sanders endorsed Teachout's bid on Monday, just days before the election.
A poll out on Monday showed the race is tight, with Maloney and James in a dead heat and Teachout following behind in third.