Lyft now buys enough clean energy to make up for all its harmful emissions. Here's what that means.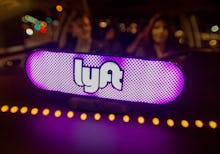 Lyft now purchases enough renewable energy to balance out emissions from rides and the electricity used in their offices and driver hubs.
In a blog post, the transportation company noted the achievement in celebration of the Global Climate Action Summit. The three-day summit, happening from Wednesday to Friday, focuses on the decarbonization of economies around the world. The news out of Lyft ties into the ride-share company's carbon offset program.
This doesn't mean Lyft customers taking a standard gas guzzler will suddenly make that ride energy efficient. Instead, the company is going green by purchasing carbon offsets when available. They're also purchasing renewable energy credits from companies like 3Degrees or local utility partners when available.
A carbon offset is "created when one ton of greenhouse gas is captured, avoided or destroyed in order to compensate for an equivalent emission made." Lyft gives money to companies like 3Degrees to work on projects that produce wind energy or capture methane from farm animal manure.
The company's purchasing of energy credits also goes toward making Lyft's operation eco-friendly. According to a spokesperson for Lyft, "The credits come from renewable energy projects generating clean power on the same regional electricity grids that we use to power our offices and driver hubs."
Earlier this year, in July, Lyft acquired Motivate, the company behind bike sharing programs including Citi Bike in New York City and Capital Bikeshare in Washington. Lyft noted that the acquisition was another part of their Green Cities Initiative. The company's self-driving car plans also have an environmental component. In an earlier announcement, Lyft noted that all electronic autonomous vehicles will be powered by 100% renewable energy.
Additionally, Lyft promised to "provide at least 1 billion rides per year using electric autonomous vehicles" by 2025, the company said in a blog post.
Lyft is ahead of Uber at this. In an exchange with Quartz, Uber's efforts toward being eco-friendly focus mainly on electric bikes (available in San Francisco), public transit and carpooling. Lyft also has a carpooling option in its app. In June, Uber announced a program to offer more resources to their drivers with electric vehicles, like a notification when a trip would last longer than 30 minutes, so drivers know they won't be near a charging station for a while. In places like Quebec, electric vehicle drivers can get insurance at a cheaper rate.
According to Lyft, the carbon offsets they purchase will help them offset more than 1 million metric tons of carbon. Their recent efforts have made Lyft a carbon neutral company.
Sept 13 1:30 p.m. ET: This story has been updated