Bill Cosby sentenced to 3 to 10 years in prison for sexual assault retrial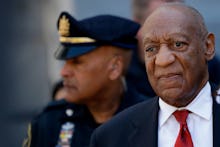 Bill Cosby, who in April was found guilty on three counts of aggravated indecent assault, was sentenced to three to 10 years in prison on Tuesday, the Associated Press reported.
The 81-year-old was convicted April 26 by a Norristown, Pennsylvania, jury of seven men and five women, after a previous trial ended in a mistrial in June 2017.
On Tuesday, a judge declared Cosby a "sexually violent predator," which means he will appear on a sex offender registry and must attend monthly counseling sessions for the rest of his life. Cosby is also required to check in with authorities quarterly, according to the AP.
On Monday, prosecutors asked Judge Steven T. O'Neill to give Cosby five to 10 years in prison. Cosby's attorneys requested house arrest instead, citing the comedian's age and the fact that he is legally blind. Cosby initially faced up to 10 years for each count, but attorneys on both sides agreed to merge the three counts, CNN reported.
Cosby's victim, Andrea Constand, testified briefly on Monday.
"All I'm asking for is justice as the court sees fit," she said.
Cosby pleaded not guilty to charges that he drugged Constand with qualuudes, an illegal sedative, and sexually assaulted her at his home near Philadelphia in January 2004. Cosby claimed the encounter was consensual, and that he gave her Benadryl, not qualuudes.
On Sept. 11, Cosby's attorneys filed a motion for O'Neill to recuse himself from the case, but O'Neill denied the request on Wednesday.
During the sexual assault retrial, five additional women were allowed to testify against Cosby: Janice Dickinson, Lise-Lotte Lublin, Chelan Lasha, Heidi Thomas and Janice Baker-Kinney. Each woman gave details about their own experiences being drugged and sexually assaulted by the comedian.
Cosby's key witness in the retrial was Marguerite Jackson, a former friend of Constand's who testified that Constand was planning to swindle money from a "high-profile celebrity."
Cosby's initial sexual assault trial ended just months before the #MeToo movement was catapulted into mainstream consciousness, as celebrity women spoke out about being victims of sexual misconduct.