Emmys 2018: Rachel Brosnahan wins outstanding lead actress in a comedy series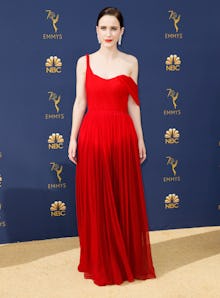 Rachel Brosnahan won the award for outstanding lead actress in a comedy series at the 70th annual Emmy Awards on Monday for her role in Amazon's The Marvelous Mrs. Maisel.
Speaking onstage after accepting her award, Brosnahan got political in her speech.
"One of the things that I love the most about this show, while I have you captive for another two seconds, is that it's about a woman finding her voice anew, and it's something that's happening all over the country right now," Brosnahan said. "One of the most important ways that we can find and use our voices is to vote, so if you haven't already registered, do it on your cell phone right now — vote, show up and bring a friend to the polls."
The field of nominees included Pamela Adlon for Better Things, Allison Janney for Mom, Issa Rae for Insecure, Tracee Ellis Ross for Black-ish and Lily Tomlin for Grace and Frankie.
Though Brosnahan had been the favorite to win, 2018 is the first year in a long time the field could be considered wide open. Julia Louis-Dreyfus dominated the category for six consecutive years with her role as Selina Meyer in Veep.
But for the 2018 Emmys, Veep — which went on a filming hiatus after Dreyfus was diagnosed with breast cancer — didn't have a new season to enter, leaving the stage free for another comedian to take the top prize. Lest anyone gets too comfortable, however, Dreyfus will likely be back in the running in 2019: Veep began filming its seventh and final season over the summer.
Check out Mic's full list of Emmy winners here.