Sen. Susan Collins calls $1 million crowdfunded PAC to stop her Kavanaugh vote a "bribe"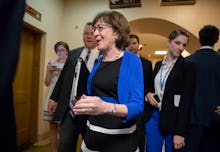 Senator Susan Collins (R-Maine) on Monday said that a crowdfunded PAC set up to stop her from voting to confirm embattled Supreme Court nominee Brett Kavanaugh was tantamount to a "bribe," broadcasting a warning to the thousands of individuals who had donated in the hopes of influencing her decision.
After a week of histrionics during Kavanaugh's confirmation hearings, Collins, a crucial swing vote in the Senate, is thought to be among the only people with the power to stop the nominee's near-certain confirmation to the nation's highest court.
In order to influence Collins' vote, political action committees Maine People's Alliance and Mainers for Accountable Leadership have joined forces with Ady Barkan, a dying father who has advocated tirelessly for health care reform, in order to crowdfund a campaign to influence her.
If Collins decides to vote no on Kavanaugh's confirmation, none of the 36,313 pledges will be charged to the credit or debit cards used to donate to the cause, and all of the money will be returned to the accounts who donated. If she votes yes, however, all of the money — which, on Tuesday, officially stretched into excess of $1 million — will be donated to the campaign of Collins' future 2020 opponent.
In an interview with the right-leaning news site Newsmax on Monday, Collins said that entire campaign was tantamount to a "bribe," and that she would not allow it to shape her decision.
"I consider this quid pro quo fundraising to be the equivalent of an attempt to bribe me to vote against Judge Kavanaugh," Collins said. "If I vote against him, the money is refunded to the donors. If I vote for him, the money is given to my opponent for the 2020 race."
"This effort will not influence my vote at all," she added. "I think it demonstrates the new lows to which the judge's opponents have stooped."
Kavanaugh's nomination is widely opposed by liberals and pro-abortion rights activists who fear that his appointment would shift the ideological bent of the high court just far enough to the right, finally enabling it to overturn the Roe v. Wade decision that Republicans and anti-abortion rights advocates have condemned for years.
"The people of Maine are asking you to be a hero, Senator Collins," the site for the crowdfunded PAC reads. "Your swing vote could decide whether a rubber stamp for Trump's anti-healthcare, anti-woman, anti-labor agenda gets confirmed to the Supreme Court–costing millions of Americans their healthcare, their right to choose, and their lives."