"We have a president that likes us": Anti-Islam group brags about weekly meetings at White House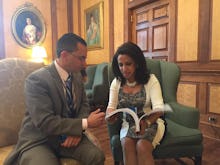 For nearly a decade, anti-Islam nativists have pushed the conspiracy theory that the U.S. government had been infiltrated by Muslim extremists and the White House compromised by Islamic radicals at the highest levels. Now, anti-Islam nativists are touting their own access to the Trump White House.
Brigitte Gabriel, founder of anti-Islam organization ACT for America, claimed at the group's annual conference Sept. 4 and 5 that the group has a weekly meeting at the White House, according to a source present at the meeting who relayed the details to the Southern Poverty Law Center.
"I actually want you to know we have a standing meeting at the White House once a week," Gabriel reportedly said. "We have a president that likes us, President Trump."
Gabriel is the author of books like They Must Be Stopped: Why We Must Defeat Radical Islam and How We Can Do It, which touts ideas about how Muslims in America threaten to undermine democracy. The SPLC, which tracks the activities of right-wing extremists in the U.S., classifies ACT for America as a hate group.
ACT for America held a nationwide "March Against Sharia" in June that was attended by at least two neo-Nazi groups in Pennsylvania and New York.
ACT for America's 2018 conference featured speakers like Fox News' Tomi Lahren and Turning Point USA's Charlie Kirk. Thomas Homan, Trump's former acting director of Immigrations and Customs Enforcement, was invited as a "special dinner gala honoree," the Intercept reported. Despite protests from faith leaders and a petition with 100,000 signatures, Hyatt Hotels hosted the event with specially discounted room rates for attendees.
The White House began releasing visitor logs as a policy under the Obama administration, but once Trump entered office, his administration shut the books again in the name of "privacy" and "national security." Some visitor logs make it to the light of day, but only after lawsuits from government watchdogs.
If Gabriel's been visiting the White House regularly, she hasn't advertised them since her visit in March 2017. She claims to have good reason, reportedly telling those present at the ACT for America conference the meetings were kept secret because the Council on American-Islamic Relations "infiltrated" ACT's email system.
CAIR communications director Ibrahim Hooper denied the allegation in a phone interview with Mic on Tuesday.
"We've definitely not hacked their system." Hooper said. "But it's nice to think they're so paranoid that somehow we have."