'Mic Dispatch': An HIV-positive veteran on "deploy or get out"; fighting for justice for Tyrone West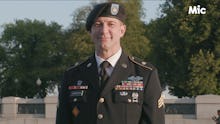 On the latest edition of Mic Dispatch, we speak with Nick Harrison, an 18-year Army and National Guard veteran, including two tours of duty in Afghanistan and Kuwait. Harrison says he was denied a promotion and may soon need to leave the military entirely.
Since 1991, the military has automatically classified anyone living with HIV as nondeployable. But deploying can be a faster route to advancing your career, and being nondeployable means you're ineligible for certain roles. The policy was originally designed to prevent the spread of a deadly epidemic, but today, medical experts say medicated service people living with HIV pose almost no risk of transmitting the disease — and that the medication needed would have practically no effect on fitness for duty.
In February, the Trump administration announced the so-called deploy or get out policy to "improve personnel readiness across the force." The process to discharge some service people living with HIV has reportedly already begun, and by Oct. 1, the wheels must be in motion to get rid of them all. "Deploy or get out" will impact Harrison and 1,120 other service people living with HIV.
Next up, we profile Tawanda Jones, the sister of Tyrone West. West was pulled over by police July 18, 2013, and allegedly resisted arrest after officers started to suspect he had drugs on him, authorities said. Eight officers were eventually needed to restrain West, and he died while in custody.
According to the Independent Review Board that investigated the case, the Maryland Office of the Medical Examiner concluded West's heart stopped due to dehydration, exertion and "physical excitement." Jones and her family disputed that conclusion, ordering their own autopsy that determined West's death was caused by asphyxiation while under police restraint.
In December 2013, the Baltimore City State's Attorney's Office cleared police of wrongdoing and declined to seek criminal charges. Although West's family accepted $1 million to settle a wrongful death lawsuit — the agreement stipulated the family refrain from discussing the case publicly — Jones was not party to it. So Jones has held weekly vigils since her brother's death calling for the officers involved to be held accountable.
Check out episode 17 of Mic Dispatch — only on Facebook Watch.
To catch future episodes of Mic Dispatch, follow Mic Dispatch on Facebook Watch. For more stories about the show, visit the Mic Dispatch collections page.