Serena Williams shows black women how to be the heroines we truly are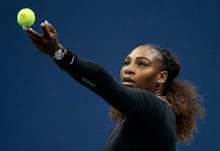 At the U.S. Open final match on Saturday, as Serena Williams was playing Naomi Osaka — a 20-year-old Japanese and Haitian woman who dominated the tennis player she has idolized since childhood in the first set — things escalated when the chair umpire Carlos Ramos first issued a code violation to Serena because her coach, Patrick Mouratoglou, was making a coaching hand gesture from the stands to help Serena in the second set.
Her coach admitted that he did it, but Serena wanted to clarify that she would rather lose than cheat to win, so she approached Ramos to tell him exactly that. He didn't reverse the violation, and when she broke her racket after tossing it during a serve, she picked up another automatic violation. This made Serena furious enough that she said, "You owe me an apology. I have never cheated in my life. I have a daughter and I stand for what's right and I have never cheated. You owe me an apology."
Ramos didn't apologize. When Serena wouldn't let it go, when she went further and called him a thief for stealing a point from her — which is what happens when there's a code violation — he issued another code violation for verbal abuse. That's when she asked for the referee and said that she was being singled out for her behavior as a woman.
"The fact that I have to go through this is just an example for the next person that has emotions, and that want to express themselves, and want to be a strong woman," she said. "They're going to be allowed to do that because of today. Maybe it didn't work out for me, but it's going to work out for the next person."
Maybe an apology doesn't mean a lot to most people, but for those of us living in a black woman's body, a body that's strong and dominating — "intimidating," which is code for dangerous, really, or threatening or unpredictable — speaking your mind is a revolutionary act. Serena's persistence at the U.S. Open final was a fight for Naomi Osaka and generations in the future. It's not about winning for herself, but for us and ours. Much like her symbolic counterpart, Colin Kaepernick, Serena is fighting for something bigger than herself because she is called to. But she doesn't have to and we should always keep that in mind. One day, she'll grow tired.
Anyone who truly knows, sees, loves black women knows: Holding back, repressing our anger kills black women. It's part of a complex matrix, along with the chronic stress brought on by racism. It's part of what has been killing black women at over three times the rate of white women in childbirth. Hell, the disparity nearly killed Serena, the greatest athlete of our time. So if she gets mad as hell, breaks her own racket and demands the apology she's owed in real time? I'd say that black women everywhere would say that she deserves one.
I didn't need to see the racist caricature of Serena Williams to know what it would look like, or read the dismissive hot takes, like the one by Martina Navratilova titled "What Serena Got Wrong," which, while it acknowledges Serena's sportsmanship after the match, is completely tone-deaf to the specific burdens Serena has faced regularly as a black woman throughout her career at the intersection of race and gender, and only looks at her from a gender bias perspective.
In 1977, the Combahee River Collective wrote the best manifesto of all time, a precursor to intersectionality. At the heart of this statement, is this: "If black women were free, it would mean that everyone else would have to be free since our freedom would necessitate the destruction of all the systems of oppression."
Sure, most women are socialized to play nice with others and to subscribe to the cult of true womanhood. But black women, regardless of wealth or status, have rarely been allotted the dignity of being our full selves in public without being reminded of the double jeopardy that awaits us.
When black women feel our feelings in public, we are always shamed for being the worst of what a woman is. When we excel, we are too manly. We cannot win. I would argue what riles Serena haters is what pisses off bigots about black people across the gender spectrum and what irritates some men about independent women everywhere: She always wins even when she doesn't win.
When she's not winning on the tennis court or in matches, she's winning at life. On her HBO show, Being Serena, we got to see the full range of this; what it means to live in Paris and America, to speak French or just to understand it spoken to her with ease. But this is the reason that Serena is the epitome of what resentful white people think of as an "uppity" black woman — and she is often portrayed as such. She's punished for black excellence and we know it.
In a global atmosphere that still holds so much residue from resentment over the Obamas — remember all the conversations we had about Michelle Obama's arms? — watching Serena marry Alexis Ohanian on the show, who appears to love her so completely, was a breath of fresh air. It's why I gasped in adoration at her tutus when the catsuit was banned. I don't even really want babies, but damn if Alexis Olympia doesn't make me think twice.
This, too, is a way that Serena fights for black women. Too often, we have not been permitted to be mothers, to have total, utter ownership over our bodies and the bodies of our children and to have those things be our entire identity. For Serena to make this a new facet of her persona and identity is extraordinary, though depending on the feminist, it might look regressive. Anyone not derived from a diaspora relegated to slavery would of course, not really understand.
Because black women often do not have the luxury of being viewed or treated tenderly as human, anyone who is not paying attention is likely to confuse our tears for petulance instead of despair. To watch Serena's vulnerability unfold as a black woman who has been bullied by cowardly, passive-aggressive men my entire life because they were intimidated by what is referred to affectionately, with a wink and a smile, as "grit" in their fellow white men is a revolution.
Because Serena has always been a champion, has always been fighting this fight, we take her for granted. (I try not to, but life is busy.) Black folks like to talk about giving people their roses while they're living, which means we want her to know she is cherished while she can still appreciate that we love her. Every triumph for Serena reminds me, as she approaches 37, that she is doing more than she needs to and we should be grateful.
It's more convenient for white sports fans, of course, to turn the healthy, justified rage of black bodies gazed upon for money-making sport into a weapon formed against us. But like Colin Kaepernick, Serena is a generosity. She won't let anyone or anything make her flat or less complex. Like Shirley Chisholm, she is unbought and unbossed. She contains multitudes. She can be both livid and kind, distraught and sweet, within the same hour.
What audacity, what nerve, that black girl with the big hair and the strong legs and amazing body has, showing up, demanding to be seen as human. What a gift, in this time, in this void of regal reckoning for black or brown bodies anywhere but fictitious worlds, that we get to witness Serena's humanity unfurl, unedited.
Serena is iconic because of what she can do, but she's extraordinary because of who she chooses to be and who she asks us to become — the heroines of our own lives.