Kal Penn goes to White Castle — this time to convince meat lovers to try its Impossible Burger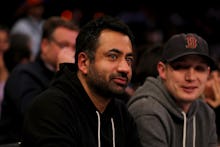 The esteemed film Harold & Kumar Go to White Castle debuted at the box office in July 2004. More than 14 years later, Kal Penn, who played Kumar, is returning to the burger joint, but this time for a very different reason.
On Wednesday, White Castle announced the addition of the Impossible Burger to its menu nationwide. After a successful pilot program in April, when 140 stores across New York, New Jersey and the Chicago metropolitan area sold the meatless burger, the brand has fully committed to its Impossible Slider, which retails for $1.99. For those unfamiliar, the Impossible Burger is the veggie patty darling of Silicon Valley: Made to "bleed" and resemble beef in both taste and texture, the plant-based burger is drastically better for the environment than conventional cow-based patties.
Penn, who's partnered with Impossible and White Castle for the roll out, thinks the country needs more options for nonvegetarians who care about the planet. "A lot of vegetarian burgers are geared toward a vegetarian market," he said by phone. "This one is for people who want a delicious burger and would prefer it didn't come from environmentally destructive sources." Penn said he tried the burger at a Bareburger and so truly didn't believe it was vegetarian that he asked the waitress to exchange it for the meatless version. It's that convincing. (When the author of this article, who's been vegetarian for over a decade, tried the Impossible Burger, she had a similar moment of disbelief.)
"There are relatively limited choices for people who want to make better decisions," Penn said. With White Castles located all around the country, more consumers will have access to plant-based alternatives at an accessible price point. As Penn put it, "The idea that a plant-based meat burger would be in all of these places is super exciting. I'm excited that consumers have that choice now."
The actor/producer/former civil servant has been an on-again-off-again vegetarian since his high school years. One of these on-again periods coincided with the filming of Harold and Kumar — and this was before the chain had any vegetarian offerings. In order for Penn to eat onscreen, a prop person would fashion White Castle slider look-alikes out of soy patties, Penn said.
More recently, Penn redeclared vegetarianism in June 2017 when President Donald Trump announced he'd be withdrawing the United States from the Paris agreement. "I was one of many people tweeting nasty comments about it," Penn said. It was a moment for him to commit to his beliefs.
"Everybody knows the way we produce and consume meat is one of the greatest causes of global warming. If I felt so strongly [about the Paris agreement] maybe I should make some decisions that actually make a difference," he said of his decision to go off meat again.
A few months later, he invested in Impossible Burger. "I wanted to put my money where my mouth is," Penn said. What he seems to be most passionate about, however, is the taste of Impossible. This is where he sees the most potential impact. "Culturally, here is finally a plant-based meat burger that conjures up the exact same memories we associate with burgers," Penn said, citing moments like family barbecues and Fourth of July cookouts. "I don't remember ever having that feeling eating veggie burgers. It's kind of fun — that's the intangible part of it."