Emmys 2018: John Mulaney wins for outstanding writing for variety special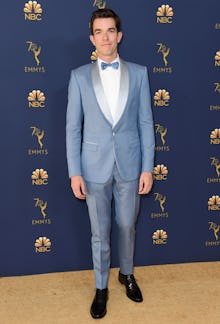 Comedian John Mulaney won the award for outstanding writing for a variety special Monday at the 70th annual Emmy Awards for his stand-up special John Mulaney: Kid Gorgeous at Radio City. Accepting the award onstage, Mulaney said, "This is incredible."
Mulaney shouted out the fellow comedians who were nominated in the same category and thanked his wife, Annamarie Tendler — who, he joked, stayed home because she said she didn't want to watch him lose.
Other nominees in the field, which honors one television special every year, included the writers of the special episode Full Frontal with Samantha Bee Presents: The Great American* Puerto Rico (*It's Complicated), Michelle Wolf for her comedy special Michelle Wolf: Nice Lady, Patton Oswalt for Patton Oswalt: Annihilation, and Steve Martin and Martin Short for their comedy special Steve Martin & Martin Short: An Evening You Will Forget for the Rest of Your Life.
The writers of Full Frontal's mock White House correspondents' dinner special won in the same category in 2017.
Check out Mic's full list of 2018 Emmy winners here.