Bill Cosby tries to get sexual assault case judge removed days before his sentencing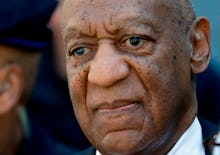 Bill Cosby's attorneys are working to get the judge in the comedian's sexual assault case removed. This comes just two weeks before the comedian is scheduled to be sentenced following his April conviction on three counts of aggravated indecent assault in a retrial.
Andrea Constand had accused Cosby of drugging and sexually assaulting her at his home near Philadelphia in January 2004. The first trial ended with a hung jury in June 2017. Cosby faces a maximum of 30 years in prison.
Cosby's lawyers filed a motion Tuesday to revisit a petition in which Cosby claimed his case should have been thrown out because of an agreement he made with former Montgomery County District Attorney Bruce Castor, the Hollywood Reporter reported.
Cosby's team claims Judge Steven T. O'Neill, who rejected the motion in 2016, should have recused himself from deciding this case because of an alleged previous feud with Castor stemming from a 1999 primary election in which O'Neill lost to Castor for the district attorney's seat.
"Bill Cosby was not afforded an impartial judge and he did not receive a fair trial," Camille Cosby, Bill Cosby's wife, said in a statement Tuesday. "Instead, my husband was forced to go to trial before a judge, Steven T. O'Neill, who had a bitter, longstanding feud with one of the key witnesses in the case, Bruce Castor, the former district attorney for Montgomery County, Pennsylvania."
After Bill Cosby and Constand reached an initial settlement, Castor reportedly agreed not to prosecute him.
"Mr. Castor testified under oath that when he was DA in 2006, he made a binding decision that because the evidence was weak, Mr. Cosby would never be prosecuted in this case, and that as a result of that decision, Mr. Cosby no longer had the right to remain silent and would be required to give a deposition in a civil lawsuit," Camille Cosby said.
When the actor's original testimony in the case — in which he admitted to giving women Quaaludes — was unsealed, current District Attorney Kevin Steele moved forward with charging him, according to the Hollywood Reporter.
Bill Cosby's attorneys also argued in the 2016 petition that Steele's decision to prosecute was "political" because Steele had attacked Castor's handling of the case in campaign ads prior to his election.
Now, Bill Cosby's defense team is requesting O'Neill reverse that decision and step down from the case in hopes of getting a new trial.
"If a judge would do this in a case as high-profile as this one, then he cannot be trusted to be a fair judge for anyone else either," Camille Cosby said in her statement Tuesday.