Trump calls Puerto Rico hurricane response an "unsung success"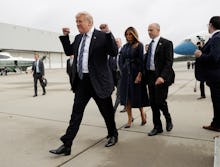 As Hurricane Florence heads toward the East Coast, President Donald Trump on Tuesday called the government's response to Hurricane Maria in Puerto Rico in the summer of 2017 an "unsung success."
"It was one of the best jobs ever done with respect to what this is all about," Trump said during a briefing of his administration's response to Hurricane Maria, the death toll for which has been revised up to 2,975 — more than the 1,833 who died as a result of Hurricane Katrina in 2005.
Trump made the comment as he addressed the government's plan for Hurricane Florence, a powerful storm barreling for the Carolinas.
The comment is reminiscent of one former President George W. Bush made in 2005 in the aftermath of Hurricane Katrina, when he praised Michael Brown, then-director of the Federal Emergency Management Agency, as images of human suffering were broadcast from the storm-ravaged city.
"Brownie, you're doing a heck of a job," Bush said at the time.
This isn't the first time Trump has come under fire for comments related to Hurricane Maria. After the death toll was revised exponentially higher than the 64 deaths the island's government had initially reported, Trump praised his administration's response to the storm.
"I think we did a fantastic job ... most of the people in Puerto Rico really appreciate what we've done," Trump said Aug. 29.
During a visit to Puerto Rico in October, Trump tossed supplies into a crowd, which was widely viewed as an inappropriate response to the widespread human suffering on the island.
Trump defended his actions at the time.
"I came in and there was a crowd of a lot of people," Trump said a few days later, according to NBC News. "And they were screaming and they were loving everything. I was having fun, they were having fun. They said, 'Throw 'em to me! Throw 'em to me, Mr. President!"