Mic Daily: What to look for in this week's primaries — and other stories of the day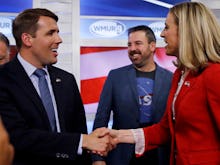 Welcome to Mic Daily: Mic's newsletter that cuts through the noise and lands in your inbox every weekday. We carefully curate each edition to send you a cross section of our most vital stories of the day.
Want more entertainment news in your inbox? Sign up for Hype Daily — Mic's morning entertainment briefing. It's got all the news you need to start your day.
Tuesday marks the final congressional primaries of 2018, when voters in New Hampshire and Rhode Island head to the polls to pick their nominees for November's midterm elections.
Here's your comprehensive guide for what to keep your eyes on as the primaries come — blissfully — to a close.
Senator Susan Collins (R-Maine) on Monday said that a crowdfunded PAC set up to stop her from voting to confirm embattled Supreme Court nominee Brett Kavanaugh was tantamount to a "bribe," broadcasting a warning to the thousands of individuals who had donated in the hopes of influencing her decision.
According to a new release, Lyft now purchases enough renewable energy to balance out emissions from rides and the electricity used in their offices and driver hubs. Lyft is way ahead of Uber in this.
From melting ice caps to rising sea levels, climate change has irrevocably altered the state of our planet. But global warming may have officially crossed the line — and entered into our cupboards.
Game of Thrones star Kit Harington (aka Jon Snow) has called Marvel out for its lack of gay actors in starring roles. In a new interview with Variety published Monday, Harington spoke about the lack of opportunities for gay actors within certain corners of Hollywood.
"There's a big problem with masculinity and homosexuality — that they can't somehow go hand in hand," Harington said. "That we can't have someone in a Marvel movie who's gay in real life and plays some superhero. I mean, when is that going to happen?"