Norm Macdonald on his friends Louis CK and Roseanne Barr: "Their entire life [is] being wiped out"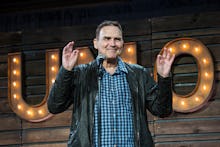 Former Saturday Night Live cast member Norm Macdonald unleashed some awful opinions in a new interview with the Hollywood Reporter. Speaking about his friends, racist tweeter Roseanne Barr and admitted harasser Louis C.K., Macdonald seemed to say that they had suffered more than their victims.
"Well, Louis [C.K.] and Roseanne [Barr] are the two people I know," Macdonald said. "And Roseanne was so broken up [after her show's reboot was canceled] that I got Louis to call her, even though Roseanne was very hard on Louis before that. But she was just so broken and just crying constantly. There are very few people that have gone through what they have, losing everything in a day. Of course, people will go, 'What about the victims?' But you know what? The victims didn't have to go through that."
There's a lot to unpack there, but yes, Macdonald is saying he told Louis C.K. to call Roseanne Barr on the phone, and also yes, he seems to think they might be worse off than the victims of their own terrible behavior. "All their work in their entire life being wiped out in a single day, a moment," he added later.
Macdonald also had some choice words about the #MeToo movement and dropped in an aside defending alleged abuser Chris Hardwick, who, in July, was reinstated as the host of AMC's Walking Dead-themed talkshow Talking Dead, after ex-girlfriend Chloe Dykstra alleged that he had abused her during their relationship.
"I'm happy the #MeToo movement has slowed down a little bit," Macdonald said. "It used to be, 'One hundred women can't be lying.' And then it became, 'One woman can't lie.' And that became, 'I believe all women.' And then you're like, 'What?' Like, that Chris Hardwick guy I really thought got the blunt end of the stick there."
If by "blunt end of the stick," Macdonald means "is back at work," then yes, yes he did. Macdonald is promoting his upcoming Netflix talk show Norm Macdonald Has a Show. When asked point-blank if he believes Barr — who had a history of racist, inflammatory and Islamophobic tweets long before her tweet comparing former Obama aide Valarie Jarrett to an ape got her kicked off her own show — was a racist, Macdonald said no.
"I had looked on her Twitter feed once in a while," Macdonald said of Barr. "I really couldn't understand her because I am not that worldly in politics. Her feed was so arcane about these Middle East politics. What I do know is that she is a single-issue motivated person. And that issue is Israel. That's all she cares about politically. She is left wing in everything else. But that is why she did not like the Obama administration, because they snubbed Netanyahu. I believe that is the only reason that she voted Trump. She is certainly not a racist. That's just crazy."