Kim Kardashian West and Van Jones discuss White House meeting on criminal justice reform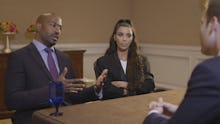 Three months after successfully lobbying President Donald Trump to grant clemency to Alice Marie Johnson, Kim Kardashian West returned to Washington earlier in September in order to advocate for broader criminal justice reform and for the case of another nonviolent drug offender, Chris Young.
Over the summer, Kardashian West teamed up with Van Jones, who outside of his role as a CNN host, is also the co-founder of #Cut50, a criminal justice reform organization.
Jared Kushner, who is leading the Trump administration's criminal justice reform efforts, invited Kardashian West and Jones to participate in an off-the-record meeting at the White House with a group of about 20 people, including attorneys, activists and policy experts. The subject of the meeting was how to change the United States' clemency process.
In an exclusive interview with Mic ahead of that meeting, Kardashian West and Jones defended their decision to work with Trump on this issue.
"I truly think it is a genuine commitment. But let's say it's not: It's still helping a lot of people and getting people out," Kardashian West said. "It's still getting the job done, no matter what anybody thinks."
"This issue can't take four years off, eight years off, 12 years off, waiting for the perfect person, with the perfect motives, with the perfect time — because people's lives are being spent behind bars," Jones added.
During their White House visit, Kardashian West and Jones also met with Trump and discussed the case of Chris Young, one of several individuals that Kardashian West has been tweeting about on social media in recent weeks.
Young is currently serving a life without parole sentence in federal prison in Lexington, Kentucky, for a nonviolent drug offense. Similar to the case of Johnson, a judge handed Young the harsh sentence due to mandatory minimum sentencing guidelines.
Judge Kevin Sharp, who sentenced Young, has since quit the bench and is now advocating for Young's release. "The whole criminal justice system disturbed me on what we did," Sharp said in an interview. "If you want me to sit on the bench and just — even if you're going to let me decide what the sentence is — just churn people through the prison system, that's not helping."
Check out episode 18 of Mic Dispatch above — only on Facebook Watch.
To catch future episodes of Mic Dispatch, follow Mic Dispatch on Facebook Watch. For more stories about the show, visit the Mic Dispatch collections page.