Artist Patrick Church casts models 65 and over for his New York Fashion Week SS19 presentation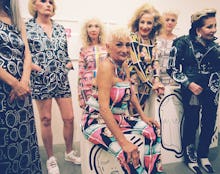 At his New York Fashion Week presentation on Sept. 7, artist Patrick Church displayed his latest collection on models ranging in age from 65 to 99 years old.
"Having explored gender and race before we thought that ageism was a relevant subject to create awareness," Church said in an interview. "When we were casting the models, we fell in love with each one of them and their stories. We found them more confident and beautiful than the normative models."
He continued, "Most people are so intrigued on how we found these amazing women; they are all around us. We are just in a very youth orientated culture, which can lead to the assumption that these women wouldn't add value as fashion models. Interesting thing is that the clothes don't wear them. ... They wear the clothes."
Church, an artist known for bridging the boundaries between art and fashion, used the show as a combination between his first solo U.S. fine art show and a presentation of his new collection — a collection comprised of acrylic paint on raw Belgian linen, hand-painted leather pieces and his signature vintage leather biker jackets.
Though fashion's ageism problem has been discussed as high up as Vogue and considered efforts have been made to fight back, the conversation often centers on women 40-plus instead of zeroing in those who are over 65. The 65-plus age group can be voracious consumers and want to see themselves reflected in fashion.
"Everyone at any age can feel glamorous, empowered and beautiful," Church said.
Take a look at the collection below.
To see more of Church's work, check out his website.