Hype Daily: Norm Macdonald apologizes for that terrible interview and more entertainment news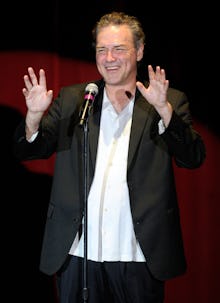 Welcome to Hype Daily, Mic's morning entertainment roundup. Here's everything you need to catch up on in the entertainment world and what to look forward to today. Want to receive this as a daily email in your inbox? Subscribe here.
Good morning Hype Daily fans, and happy "hump day," as they call it. Let's get right into today's entertainment news.
Norm Macdonald apologized for saying awful stuff in an interview
Comedian Norm Macdonald apologized late on Tuesday for comments he made in a recent interview with the Hollywood Reporter defending his friends Louis C.K. and Roseanne Barr and disparaging their victims and the #MeToo movement.
In a tweet on Tuesday, Macdonald said, "Roseanne and Louis have both been very good friends of mine for many years. They both made terrible mistakes and I would never defend their actions. If my words sounded like I was minimizing the pain that their victims feel to this day, I am deeply sorry." Ok then!
Olivia Munn spoke to Ellen DeGeneres about the isolation she felt from her co-stars
In an episode of Ellen that aired on Tuesday, Olivia Munn opened up about the isolation she felt after she advocated for a scene to be cut from her new movie Predator, after learning that the actor in it was a registered sex offender.
"I did reach out to my co-stars, individually, and said, 'Hey, I want you guys to know, I found this out,'" Munn told host Ellen DeGeneres. "My cast members, nobody said anything to me about it, nobody talked to me, nobody reached out that whole day. At first I thought maybe it's because they just don't know what to say, they want to stay out of the way, but privately I did feel iced out. I think that's what's really important for people to understand is, when you see something, you have to say something — however, it's not going to be easy. And there will be people that just get mad at you for not playing the game."
Watch more of the interview here.
The LA DA's office won't pursue a rape case against Backstreet Boy Nick Carter
The Los Angeles District Attorney's Office won't pursue charges for Backstreet Boy Nick Carter, the Hollywood Reporter reported on Tuesday. In February, a police report was filed alleging that Carter sexually assaulted a woman in 2003, when she was 18. According to the Hollywood Reporter, the DA's office is declining to prosecute the case because the statute of limitations has passed.
While the police report didn't name the alleged victim, singer Melissa Schuman came forward in 2017 to publicly accuse Carter of rape. In a statement to the Hollywood Reporter, Schuman said, "My family and I were well aware of the likelihood that my case was not prosecutable due to the statute of limitations in California regarding rape, which was modified in 2016. ... It is unfortunate that the law isn't fully retroactive to accommodate assaults that have happened in the past, regardless of how far back."
She added, "It gives me great solace to know that my testimony is fully documented, investigated and sealed for the future if needed by law enforcement. I gave my statement, as did the other witnesses. Speaking out was the best thing I could have ever done for myself and I hope it inspires others to do the same if it feels right for them."
Nope, Bruno Mars is not playing Prince in a movie
Sorry to everyone who for some reason wanted to see this happen — Bruno Mars will not be playing Prince in a biopic. As the Associated Press reported on Tuesday, reports that Mars would be playing the legendary singer in an upcoming Netflix biopic of Prince are "100% false."
Put this on your radar: 'Jeopardy!' is back... with a beard
My favorite trivia game show is back (really, I watch it every night) — Jeopardy! returned for its 35th season this week, and things are really different. Well, they're actually exactly the same except host Alex Trebek grew a beard. Check it out here.