Today in Trump's America: Paul Manafort reportedly in talks for plea deal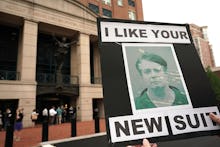 Welcome to Mic's daily read on Donald Trump's America. Want to receive this as a daily email in your inbox? Subscribe here.
Good morning from Emily Singer at Mic.
Here's what's happening in Trump's America:
• Trump's day begins at 11:30 a.m., when he'll receive his daily intelligence briefing. That gives him plenty of "executive time" to tweet, which he's already started to do this morning.
About last night: Paul Manafort in talks for plea deal, according to report
Former Trump campaign chairman Paul Manafort is reportedly in talks with federal prosecutors for a plea deal, days before his second trial on money laundering, illegal foreign lobbying and obstruction of justice is set to begin jury selection, the Washington Post reported Tuesday night.
Manafort has already been convicted on multiple counts of bank fraud and tax evasion after a weeks-long trial in August — a case in which he refused to strike a deal with special counsel Robert Mueller's team. So even the fact that he's entertaining the idea of a plea agreement is noteworthy.
It's unclear if Manafort will ultimately forge a deal with prosecutors and whether a deal would involve him answering questions about Trump, according to the Post.
Trump has specifically praised Manafort for not "flipping" — which the president described in a Fox News interview in August as an unfair practice that "almost ought to be illegal."
"I feel very badly for Paul Manafort and his wonderful family," Trump tweeted after Manafort was convicted in August. "'Justice' took a 12 year old tax case, among other things, applied tremendous pressure on him and, unlike Michael Cohen, he refused to 'break' - make up stories in order to get a 'deal.' Such respect for a brave man!"
It remains to be seen how Trump would react if Manafort did, in fact, reach a plea deal with Mueller's team.
Today in Trump's America: Trump calls Puerto Rico hurricane response an "unsung success" as Florence inches closer
In an effort to soothe frayed nerves of the millions of people staring down the massive Hurricane Florence that's barreling toward the Carolina coastline, Trump on Tuesday touted his government's response to other deadly hurricanes last summer, including Hurricane Maria in Puerto Rico, which he called an "unsung success."
"It was one of the best jobs ever done with respect to what this is all about," Trump said Tuesday at a briefing about his administration's response to Hurricane Maria.
The comment raised eyebrows, as the death toll for that storm was revised up to 2,975 in August — making the toll larger than the 1,833 who died as a result of Hurricane Katrina back in 2005.
"I mean this seriously, not as a political dig," Sen. Chris Murphy (D-Conn.) tweeted Tuesday. "If you're in Florence's path and considering riding it out, your president just said that a hurricane response where 3,000 die is his measure of success. Get out of there."
Trump is also urging residents along the Carolina coastline to evacuate.
"Get out of its way," Trump said in a video message posted to his Twitter account Wednesday morning. "Don't play games with it. It's a big one."
Meanwhile, MSNBC reports the Trump administration took $10 million intended for the Federal Emergency Management Agency — which runs point on disaster response — and gave it to Immigrations and Customs Enforcement for detention centers for immigrants, right before the start of hurricane season.
Capitol Hill happenings: New Hampshire nominates openly gay Democrat, rejects Bernie Sanders' son
Voters in New Hampshire headed to the polls Tuesday to select their nominees for November's midterm elections, in which Democrats ultimately selected a out as gay male state elected official over a female military veteran — defying the trend this cycle of women dominating Democratic primaries.
Chris Pappas defeated Maura Sullivan, 42.4% to 30.2% in a Democratic primary in New Hampshire's 1st District — the more competitive of the state's two House seats that Trump carried by a 2-point margin in 2016.
Pappas had the support of three of the four members of the state's all-female congressional delegation, which helped him overcome Sullivan. The fourth member of the delegation, Rep. Carol Shea Porter, is retiring, which led to this open-seat race.
Meanwhile, Levi Sanders — son of Sen. Bernie Sanders (I-Vt.) — came in seventh in the 11-candidate field, taking just 1.7% of the vote. The elder Sanders did not endorse his son, who took heat for his combative tone and for not living in the district in which he ran.
On the Republican side, former sheriff and Navy veteran Eddie Edwards defeated state Sen. Andy Sanborn to win the GOP nomination. Sanborn was dogged by allegations of inappropriate sexual comments toward interns.
Pappas begins the race as a front-runner, with Cook Political Report House race expert Dave Wasserman saying the race is now a likely Democratic contest following Pappas' win.
And the rest...
Bribes?: Sen. Susan Collins (R-Maine) is criticizing a crowdfunding campaign trying to convince her to vote against Supreme Court nominee Brett Kavanaugh, saying the effort is a "bribe."
"I consider this quid pro quo fundraising to be the equivalent of an attempt to bribe me to vote against Judge Kavanaugh," Collins told right-leaning news site Newsmax. "If I vote against him, the money is refunded to the donors. If I vote for him, the money is given to my opponent for the 2020 race."
Of course, Collins never raised objections to similar actions from Republican super PACs — such as the Congressional Leadership Fund, which is tied to House Speaker Paul Ryan. Ryan's super PAC threatened to pull funds from GOP lawmakers if they didn't vote for the Republican tax reform bill.
More bad polls for Republicans: Election season has officially reached crunch time, and polls are moving in the wrong direction for the GOP, which is hoping to hold onto its House and Senate majorities. A new generic congressional ballot poll by Quinnipiac University found Democrats with a 14-point lead — a number that would make November's results look more like a tsunami than a wave. And the Washington Post reports Republicans are growing increasingly worried about their ability to hold on to their Senate majority, which given the extremely favorable map the GOP has to work with this cycle is a truly wild turn of events.