House Republicans call on leadership to reauthorize the Violence Against Women Act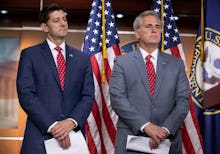 With only a few legislative days left to reauthorize the Violence Against Women Act before it expires, 46 House Republicans are urging Congressional leadership to bring the legislation to a vote.
Republicans lawmakers sent a letter to House Speaker Paul Ryan and Majority Leader Kevin McCarthy urging "expeditious reauthorization" of VAWA. The legislation is currently set to expire Sept. 30. With the House out of session from Sept. 17 to Sept. 24, lawmakers have only seven working days to approve the reauthorization.
"Since being signed into law in 1994, VAWA has helped to protect and support millions of Americans who have faced domestic violence, dating violence, sexual assault and stalking," lawmakers wrote in the letter, which was sent Friday.
"This is not a partisan issue," the House Republicans continued. "VAWA has been continually reauthorized on a bipartisan basis in Congress. We must act now to maintain and strengthen this critical law."
First passed in 1994, VAWA protects victims of domestic abuse, stalking and other instances of violence against women. The landmark legislation, which was most recently renewed in 2013, includes such provisions as free rape exams; strengthened federal penalties against repeat sex offenders; training for law enforcement on responding to sexual and domestic violence incidents; legal relief for immigrants affected by domestic violence; and the creation of the the National Domestic Violence Hotline.
The bill that's been introduced in the House to reauthorize the legislation would go even further. The current draft, which was introduced by House Democrats in July, includes expanded youth education and prevention programs, as well as policies to help victims have stable housing. It would also act on the known link between domestic abuse and gun violence by expanding gun control laws to keep convicted domestic abusers and stalkers from possessing a firearm.
"This is not the dream bill," Kim Gandy, president of the National Network to End Domestic Violence, told the Huffington Post in August about the current legislation. "This is a really modest, moderate set of small improvements to the existing Violence Against Women Act that we felt could be passed in this Congress in a bipartisan fashion."
A spokeswoman for Ryan told CNN in July that the House speaker had "every expectation" the bill would be reauthorized by the Sept. 30 deadline, though Republican aides cited by CNN noted some of the provisions in the Democratic-led bill could lack sufficient support to pass in the House. The bill is currently not listed on the House's weekly schedule.
"[VAWA] has enhanced and improved the lives of girls and women, boys and men," Rep. Sheila Jackson Lee (R-Texas), who introduced the current legislation, said in a statement. "It has unquestionably improved the national response to these terrible crimes.  Nonetheless, much work remains to address unmet needs and to enhance access to protections and services for all victims, including sexual harassment, sex trafficking and tribal injustices."
"Congress must continue sending the clear message that violence against women is unacceptable," Lee added.