Public support for Mueller seems to grow in wake of Manafort conviction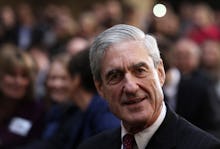 Special counsel Robert Mueller's public approval appears to be bouncing back after months of relentless attacks from President Donald Trump and his allies.
According to a new CNN poll released Wednesday, the first since former Trump campaign chairman Paul Manafort's conviction, 50% of Americans now approve of the special counsel, compared with just 30% who approve of the president's handling of the Russia probe.
That's an increase from August, when the same poll found 47% approved of Mueller, and June, when 41% approved.
The poll, conducted Sept. 6 to Sept. 9, came weeks after Manafort was found guilty on eight of the 18 counts stemming from the Mueller probe — and suggests the conviction has helped reinforce in the public's eye the legitimacy of the investigation, which Trump has assailed ad nauseam as a "RIGGED WITCH HUNT."
That relentless effort to undermine Mueller's credibility had appeared to erode Mueller's public favorability in polls over the summer, with one — a Morning Consult/Politico national tracking poll in June — finding just 32% of Americans approving of Mueller.
But the Manafort conviction, which came the same day former Trump lawyer Michael Cohen pleaded guilty to eight charges, including two campaign finance violations, was a win for the special counsel.
The trial had been viewed as the biggest public test for Mueller's team, and while a single holdout juror apparently prevented the jury from convicting Manafort on all 18 counts, he was found guilty on eight bank and financial fraud charges and could be facing around a decade in prison.
The conviction seemed to shift the momentum in Mueller's favor ahead of Manafort's second trial, which is due to begin later this month. Manafort, whom Trump had praised as "brave" for refusing to cooperate with Mueller, is now reportedly seeking a plea deal with the special counsel.
Such an agreement could further intensify the mounting political and possibly legal pressure on the president, who has appeared increasingly rattled by the investigations and by revelations of the chaos engulfing his administration.
Trump seems increasingly preoccupied with the possibility of impeachment — particularly if Democrats make big gains in November's midterms, as he's warned supporters in recent rallies.
That concern is continuing to spill over into his team's negotiations with Mueller over a possible interview with the president. Trump's legal team has been reticent to allow him to testify with investigators, and the president himself expressed fear last week that such an interview could be a "perjury trap" — an acknowledgment, it seemed, of his own difficulty telling the truth.
Mueller's team now appears willing to allow Trump to respond to at least some questions in writing in what would seemingly be a concession to the president and his legal team. But it remains unclear if Mueller is seeking a sit-down meeting with Trump and if the special counsel wants to ask questions related to potential obstruction of justice — something the president's legal team has strongly opposed.
Rudy Giuliani, the public face of Trump's legal team, also called on Mueller to end his probe in early September.
But the investigation has continued, and the special counsel has not given any indication it will conclude soon, as Mueller appears to intensify his scrutiny of longtime Trump confidante Roger Stone, who has said in recent interviews that he expects to be charged in the probe.