Controversial Serena Williams cartoon gets reprinted in Australian tabloid as anti-"PC" statement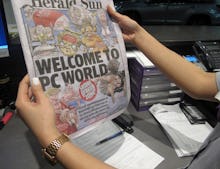 An Australian tabloid that printed a cartoon earlier this week caricaturing Serena Williams' behavior at Saturday's U.S. Open final reprinted it on Wednesday, despite the cartoon being widely criticized as racist and sexist.
According to the Associated Press, the Herald Sun used the reprint to address — and ultimately dismiss — the controversy surrounding the cartoon, which was drawn by Sun editorial cartoonist Mark Knight and first shared online Monday.
The cartoon depicts an enraged Williams with dramatically oversized red lips, a hulking physique and hair sticking straight up, in what critics from J.K. Rowling to the National Association of Black Journalists say mirrors racist portrayals of black women during the early 1900s.
Wednesday's Sun cover includes other cartoons of high-profile figures, including President Donald Trump and North Korean leader Kim Jong Un. The headline reads, "Welcome to PC World," with the words, "Satire-Free Zone" printed underneath, suggesting the paper is being unfairly censured by its politically correct critics.
"If the self-appointed censors of Mark Knight get their way on his Serena Williams cartoon, our new politically correct life will be very dull indeed," another passage from the cover reads.
Following the backlash, Knight rebuked criticism that the cartoon was racist and sexist, and suspended his Twitter account to "protect his family and friends," the Sun wrote Tuesday.
"I drew this cartoon Sunday night after seeing the U.S. Open final, and seeing the world's best tennis player have a tantrum and thought that was interesting," Knight said in a statement, according to the Sun. "The cartoon about Serena is about her poor behavior on the day, not about race. The world has just gone crazy."
Knight's illustration references the moment Williams smashed her tennis racket on the court in anger after umpire Carlos Ramos penalized her for a coaching violation. Ramos penalized her two more times, for damaging her racket and telling him, "You stole a point from me and you are a thief," according to the Washington Post.
Williams was fined $17,000. She later said Ramos' treatment of her was sexist because male players have said worse things and not been punished the way she was.
Critics described the Sun cartoon depicting the exchange as "Sambo-like," and took additional issue with its portrayal of Naomi Osaka, Williams' black, Haitian-Japanese opponent, who appeared white and with blonde hair.
"The Sept. 10 cartoon not only exudes racist, sexist caricatures of both women, but Williams' depiction is unnecessarily Sambo-like," the NABJ Sports Task Force wrote in a statement Monday. "The art of editorial cartooning is a visual dialogue on the issues of the day, yet this cartoon grossly inaccurately depicts two women of color at the U.S. Open, one of the grandest stages of professional sports."